Adi-Month Festivals,
79th Jayanthi celebrations and Vinayaka Chaturti at
Sri Devi Kamakshi Mandir, New Delhi


July- Sep. 2013
i Adi Shankara Bhavadpadacharya in his advisory sloka "Sopana Panchakam" stated forty advises for up-lifting the humans and the first two primary advises there in are Vedo Nityamadeeyataam Taduditam KarmaSwanushteeyatam. This means a person should repeat the Vedas learnt by him regularly and also perform the Vedic injunctions specified in them as well. In today's world, this upadesha of Sri Shankara is adhered to especially by the Agnihotries.
With the divine blessings of Their Holinesses Pujyasri Jayendra Saraswathi Sankaracharya Swamiji and Sri Sankara Vijayendra Saraswathi Sankaracharya Swamiji, various festivals will be celebrated at Sri Devi Kamakshi Mandir, New Delhi in the Adi month(July-August 2013) commencing 16 July 2013. Special pujas will be performed every Friday of the Adi Month.
The 79th Jayanthi of His Holiness Pujyasri Jayendra Saraswathi Sankaracharya Swamiji will be celebrated on 24 July 2013 at the temple.
Important Days and Events:
AADI MASA FRIDAYS : 19th & 26th July, 2013 and 2nd, 9th & 16th August, 2013 – Morning Panchadasi Homam, Dasa Kalasa Mahayasa Rudhra Japam and Special Alankaram, Maha Meru Abishekam, Sahasranamam, Trisathi in evening.
22nd July, 2013 (MONDAY) - AADI PAURNAMI - Homam at 7.30 A.M., Mahanyasa Rudhra Japa Abishekam, Pujas in morning and Special Alankaram, Navavarna Puja in evening.
24th July, 2013 (WEDNESDAY) - 79th Jayanthi (Vardhanthi) of Sri Periaval Sri Jayendra Saraswathi Sankaracharya Swamigal - Mahanyasa Ekadasa Rudhra Japa Abishekam to Sri Bhagavad Paadal in morning and Veda Parayanam, Paduka Puja, Prakara Uthsavam in evening.
2nd August, 2013 – AADI FRIDAY - Singing of "ABHIRAMI ANDHADHI & PADHIKAM" By Tiruppugazh Anbargal, New Delhi
SRI VINAYAGA CHATURTHI CELEBRATIONS - This year Sri Vinayaga Chaturthi comes on Wednesday the 9th September , 2013 and will be celebrated from Saturday, 24th August, 2013 (Maha Sankatahara Chaturthi) to Monday, 9th September, 2013 (Vinayaga Chaturthi) with daily Ganapathi Homam, Laksharchana, Special Alankarams etc
24th August, 2013 (Saturday) – MAHA SANKATAHARA CHATURTHI - Ganpathy Homam in the morning and Special Abishekam to Sri Maha Ganpathy in the evening
9th September, 2013 (Monday) - VINAYAGA CHATURTHI - Ganpathy Homam, Abishekam followed by Laksharchana Concluding Sahasranama Archanai in the morning Moola Manthra Sampuditha Sahasra (1008) Modhaka Archanai in the evening.
Devotees are invited to participate in the above programmes and receive the blessings of the Almighty and Pujyasri Acharya Swamijis. Details of the various festivals are given below: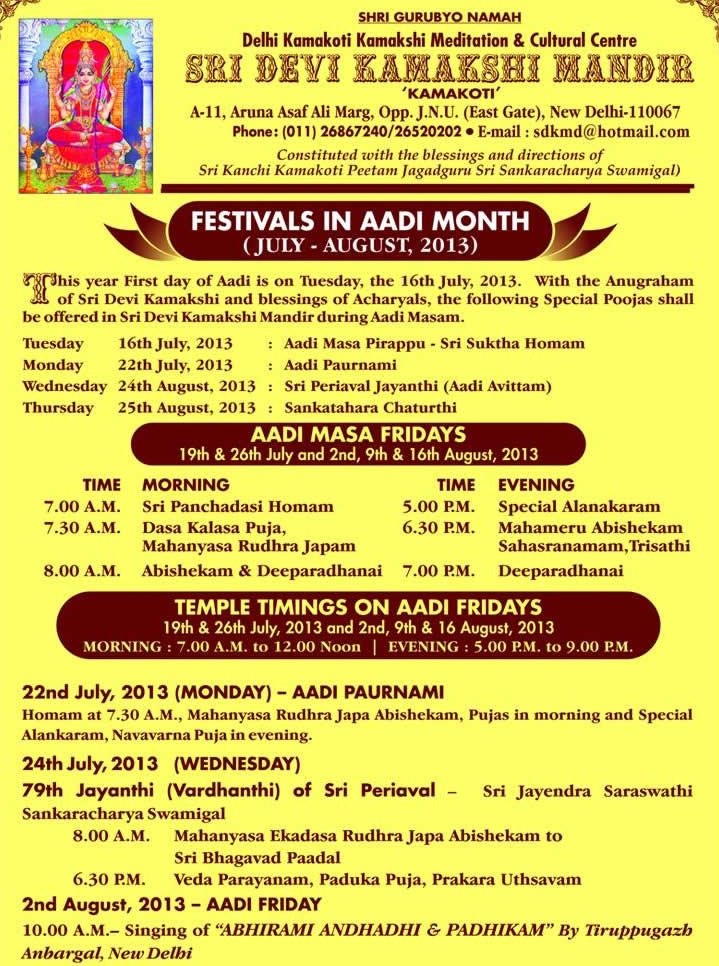 ---
Back to the News Page