Page load depends on your network speed. Thank you for your patience. You may also report the error.
Loading...
Uttara Chidambaram Nataraja Mandir, Satara
Nataraja Mahabhishekam Performed
19 Aug. 2013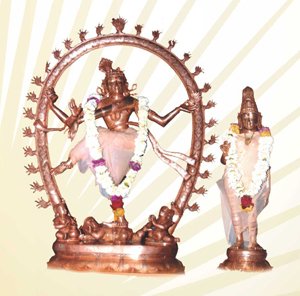 With the benign Blessings of Their Holinesses Pujyasri Jayendra Saraswathi Shankaracharya Swamiji and Pujyasri Shankara Vijayendra Saraswathi Shankaracharya Swamiji of Shri Kanchi Kamakoti Peetham, Nataraja Mahabhishekam was performed to Shri Shivakamasundari Sametha Shri Aananda Nataraja at the Uttara Chidambaram Nataraja Mandir in Satara, Maharashtra on the occasion of Aavani Shukla Chaturdashi.
Click here for more details about the Satara Nataraja Mandir
---
---