Page load depends on your network speed. Thank you for your patience. You may also report the error.
Loading...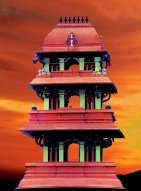 Bala Bharatam - Quiz Programme on Indian Culture & Heritage
10 Aug 2014 onwards
As part of the 80th Jayanthi Mahtosav of His Holiness Pujyashri Jayendra Saraswathi Shankaracharya Swamiji, A Unique Inter School Quiz Programme on our Culture and Heritage - "Bala Bharatham" will be telecast on Sri Shankara TV every Sunday 10th August 2014 onwards from 11.30 am to 12 noon.
---
---