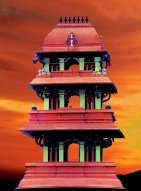 Aradhana of 65th Acharya performed
30 March 2014
The Aradhana of the 65th Acharya of Sri Kanchi Kamakoti Peetam His Holiness Pujyasri Sudarsana Mahadevendra Saraswati V Shankaracharya Swamiji was performed on Palguna Amavasya day - 30 March 2014 at Shrimatam, Kanchipuram in the presence of Their Holinesses Pujyasri Jayendra Saraswathi Shankaracharya Swamiji and Pujyasri Sankara Vijayendra Saraswathi Shankaracharya Swamiji.

The aradhana was observed with religious fervour and devotees participated in the same.



In an Anugraha Bhashan given a few years back, His Holiness Pujyasri Jayendra Saraswathi Shankaracharya Swamiji explained to the devotees that the 65th Acharya attained samadhi at Ilayathangudi, also known as Vishrampura - where you get free from all bondage from samsara and get real rest. The Acharya had a radiant presence. He was known for HIS generosity in helping needy and HIS support for arts. He was an especially accomplished Upasaka of Srividya.

Sri Sudarsana Mahadevendra Saraswati was known as Mahalingam prior to his sanyasa. He toured extensively and attained siddhi at Ilaiyattangudi on Amavasya in the month of Phalguna of the cyclic year Virodhi (1891 AD). A Temple has been built by the Nattukottai Chettiars on his samadhi.
---