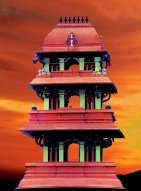 80th Jayanthi Mahotsavam at
Kolkata Ved Bhavan
11 Aug 2014
The 80th Jayanthi Mahotsavam of Shri Kanchi Kamakoti Peetadihpati Jagadguru Shankaracharya Pujyashri Jayendra Saraswthi Swamiji will be celebrated at Ved Bhavan, 50, Lake Avenue, Kolkata on 11 Aug. 2014. Various havans will take place from 9 am to 12 noon, followed by prasadam. Sloka Competitions will be held on 31 Aug 2014 for children in this connection.
Devotees from Kolkata will perform the Kolkata Samashti Bikshavandanam and Suvasini Bikshavandanam on 14 & 15 August 2014 at Srimatam, Kanchipuram. The Ved Bhavan Bhajan Group will perform Namasankeertan Bhajans 4 pm onwards at Srimatam on 14 Aug. 2014.
---