Page load depends on your network speed. Thank you for your patience. You may also report the error.
Loading...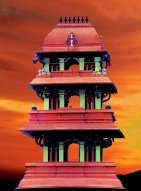 Laksha Kumkumarchana performed at
Nellore Sankara Matam
18 July 2014
With the benign Blessings of Their Holinesses Pujyashri Jayendra Saraswathi Shankaracharya Swamiji and Pujyashri Shankara Vijayendra Saraswathi Shankaracharya Swamiji, Laksha Kumkumarchana was performed at Sri Sankara Matam, Nellore on the occasion of Aashada Shukravaram on 18 July 2014.
Chandi Havan performed at Nellore - 12 July 2014
---
---