Page load depends on your network speed. Thank you for your patience. You may also report the error.
Loading...
Pradosha Parayanam Performed -
28 Jan. 2014
As ordained by His Holiness, Pradosha Parayanam was performed at Shri Ratnagireeswarar temple in Besant Nagar, Chennai by members of the Gruhini class. The parayanam was performed on 28 Jan. 2014 - Pradosham day. This is the latest in a series of parayanams being performed on Pradosham days wherein the group members recited Gagara Ganapathi Sahasranamam, Shiva Sahasranamam, Lalitha Sahasranamam and Shiva Nakshatramala.
Earlier, similar parayanams were performed by the group at
* Kapaleeswarar Temple on 31 Dec. 2013
* Virupakheswarar Temple on 30 Nov. 2013
* Velliswarar Temple on 15 Nov. 2013.
* Teertha Paleswarar temple on 16 Oct. 2013
* Sri Karaneeswarar Temple,Mylapore on 2 Oct. 2013
* Sri Karaneeswarar Temple, Saidapet on 2 Sep. 2013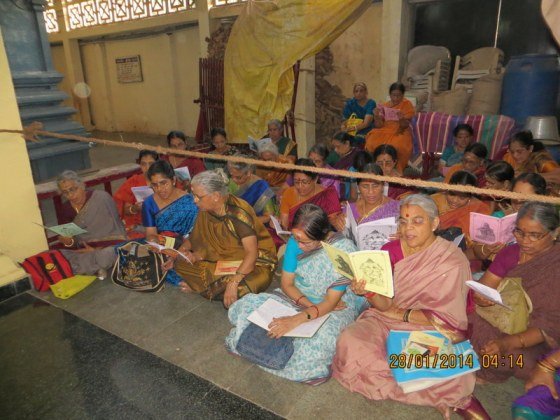 Click here to read details of previous Pradosha Parayanams
---
---