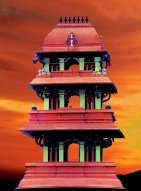 Sri Shankara Jayanthi Mahotsavam
30 April- 4 May 2014
Sri Shankara Jayanthi Mahotsavam will be celebrated from 30 April to 4 May 2014 at Shrimatam, Kanchipuram with the Blessings of Pujyasri Shankaracharya Swamijis of Sri Kanchi Kamakoti Peetam.
Veda Parayanam, Bhashya Parayanam, Bhajans, Shloka parayanams, discourses etc. will be held including Rudrabhishekam to Sri Acharyal on 4th May 2014 - Shankara Jayanthi day.
Read about "Shankara Jayanthi Mahotsav at Srinagar, Jammu & Kashmir - 25 April - 4 May 2014"