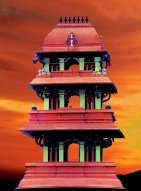 Yajur Upakarma at Ahmedabad, Gujarat
10 Aug 2014
With Blessings of His Holiness Jagadguru Shankaracharya of Shri Kanchi Kamakoti Peetam, Yajur Upakarma will be held at SRI KANCHI KAMAKOTI EDUCATIONAL & CULTURAL CENTRE, Gota, Ahmedabad in Gujarat on 10 Aug. 2014 8.00 am onwards. from 1 to 3 August 2014. The programme is being organized by the Managing Committee, Shree Asthika Samaj, Ahmedabad. Following the Upakarma, the weekly meet will be held in which Ganesha Pancharatnam, Bhagavad Gita and Vishnu Sahasranama Stotram will be chanted.
Venue: SRI KANCHI KAMAKOTI EDUCATIONAL & CULTURAL CENTRE Plot No.17, Gota Cross Road, Ognaj Road, Gota, Ahmedabad – 382481
Activities of Sankara Matam at Ahmedabad
VEDA
The Kanchi Kamakoti Peetham of Ahmedabad runs a Veda Pathashala with 12 students.
GO SAMRAKSHANA
The Go Shala provides shelter to about 15 cows.
SANKARA SCHOOL
The Sankara Public School is functioning since 2004. It has classes of standard 1st to 10th of both English and Gujarati Medium. The aim of the Centre is to provide affordable quality education to the economically weak segments. The current strength of students is around 450 pupils with 24 teachers and 04 professional tutors.
---