Page load depends on your network speed. Thank you for your patience. You may also report the error.
Loading...
Vijayadashami- Poorthi Pariksha Certificates Distributed
4 Oct. 2014

Chennai
The Annual Veda Rakshana Nidhi Trust Poorthi Pariksha and Parithosikam Awads were distributed by Their Holinesses Pujyasri Jayendra Saraswathi Shankaracharya Swamiji and Pujyasri Sankara Vijayendra Saraswathi Shankaracharya Swamiji at Srimatam Camp in Kanchi Mahaswami Vidya Mandir, Rajakilpakkam, Chennai on Vijayadashami day. The awards instituted for various levels in the different vedic branches were given to meritorious students and outstanding Adhyapaks and scholars.
Students and scholars receiving the blessings and certificates from Pujyashri Acharya Swamijis: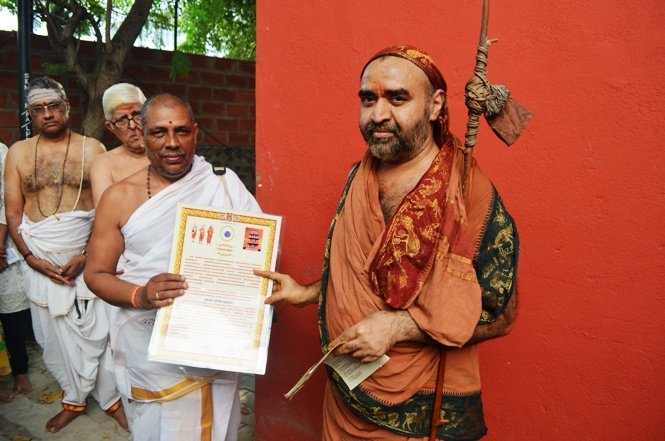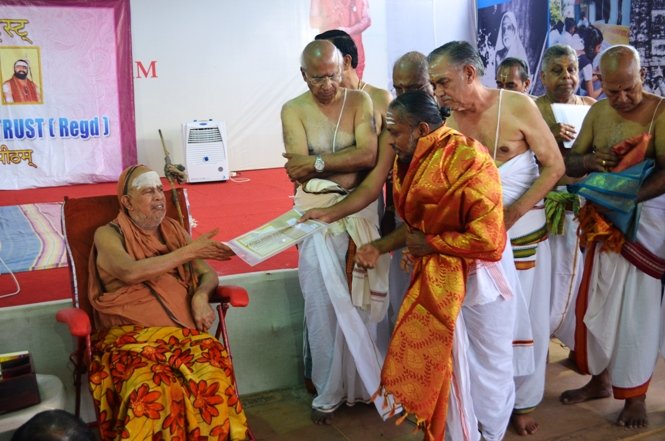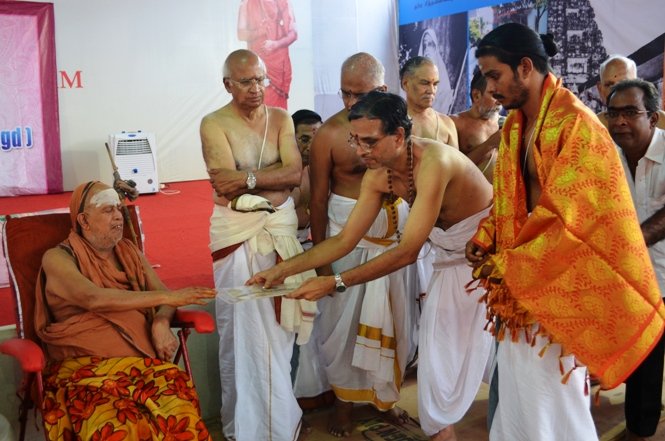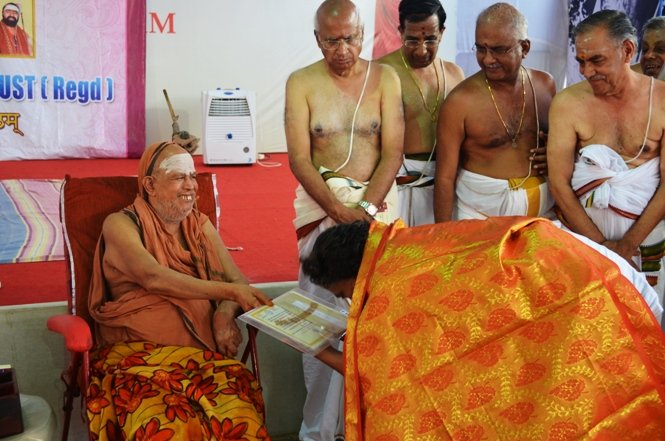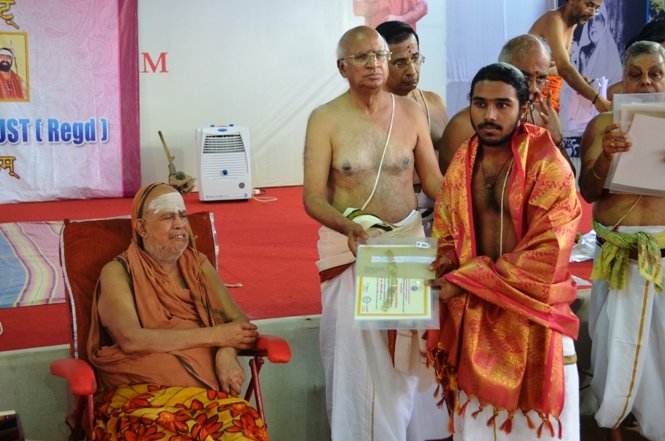 The Veda Rakshana Nidhi Trust is functioning since 1958. It has been rendering yeoman service in the field of Vedic Education under the guidance of the Acharyas of Shri Kanchi Kamakoti Peetam, Kanchipuram. It encourages Veda Adhyayana and it runs its own Gurukula Patasalas throughout the country. An annual examination is conducted twice a year during Sankara Jayanthi in April/ May and once during Navaratri in September/ October each year. The Vidyarthi, on his successful completion of the exam is given a certificate of proficiency coupled with cash award.
VEDA RAKSHANA NIDHI TRUST - VIJAYADASAMI 2014 POORTHI EXAMINATIONS
ABSTRACT
VEDAM
TOTAL
ABSENT/
NO.
FIRST
SECOND
THIRD
APPLIED
WITHDRAWN
APPEARED
CLASS
CLASS
CLASS
RIG VEDAM SAKALA
AITHREYA BRAHMANAM
6
NIL
6
6
NIL
NIL
MOOLAM
22
1
21
16
5
NIL
PADAM & KRAMANTHAM
4
2
2
1
1
NIL
GHANAM
2
NIL
2
NIL
NIL
3
SUKLAYA YAJUR KANVA
PADAM & KRAMANTHAM
4
NIL
4
2
2
NIL
SUKLA YAJUR MADYANDINA
PADAM & KRAMANTHAM
1
NIL
1
NIL
NIL
1
GHANAM
3
NIL
3
3
NIL
NIL
KRISHNA YAJUR THAITHRIYA
PADAM & KRAMANTHAM
34
4
30
20
8
2
GHANAM
5
NIL
5
5
NIL
NIL
SAMA VEDAM KAUATHUMA
POORVA BHAGHAM
3
NIL
3
3
NIL
NIL
UTTARA BHAGHAM
1
NIL
1
1
NIL
NIL
85
7
78
57
16
6
VEDA RAKSHANA NIDHI TRUST - VIJAYADASAMI 2014 POORTHI EXAMINATIONS
RIG VEDAM - MOOLAM
ROLL NO.
NAME
PERCENTAGE
CLASS
21
BONTHA VENKATA KAMESHWARA SHARMA
92
I
19
PRATHAMESH JOSHI
91
I
7
VINOTH KUMAR B
89
I
4
GANESH B
84
I
22
SRIRAM
84
I
5
AJITH KUMAR M
84
I
17
RAMJI R
83
I
12
VELURI CHARAN TEJA SHARMA
80
I
20
LAKSHMI NARAYANA CHARI M
80
I
18
PRANEETH C
80
I
11
KRISHNAMANDIRAM GANESH
79
I
6
ABHILASH SHARMA N
78
I
15
DAYANIDHI P
78
I
14
BALAJI K
77
I
3
BALA SIMMAN M
76
I
2
GANAPATHI RAMAN A C
76
I
1
RAGAVENDRAN M
74
II
13
SAI PHANEENDRA D
73
II
9
HARINATH K
71
II
16
SRINIDHI P
70
II
10
BALAJI R
68
II
8
VEERA RAGHAVAN L
0
ABSENT
A
VEDA RAKSHANA NIDHI TRUST - VIJAYADASAMI 2014 POORTHI EXAMINATIONS
RIG VEDAM - KRAMANTHAM
ROLL NO.
NAME
PERCENTAGE
CLASS
3
VASUDEV C
(FOR Improvement)
81
I
4
PAVAN KUMAR SHARMA M
68
II
1
SURYA S
0
WITHDRAWN
2
GURURAJ K
0
WITHDRAWN
VEDA RAKSHANA NIDHI TRUST - VIJAYADASAMI 2014 POORTHI EXAMINATIONS
RIG VEDAM - GHANANTHAM
ROLL NO.
NAME
PERCENTAGE
CLASS
1
ANIRUDH KASHYAP H G
56
III
2
AKSHATH BHAT K
54
III
VEDA RAKSHANA NIDHI TRUST - VIJAYADASAMI 2014 POORTHI EXAMINATIONS
RIG VEDAM - AITHREYA BRAHMANAM
ROLL NO.
NAME
PERCENTAGE
CLASS
NAME
5
SIDDHESH SANJAY PALASKAR
95
I
4
VARAD YOGESH JOSHI
93
I
2
GANANJAY SHREEPAD DHAYGUDE HNY NO. 72
91
I
1
SAMEER VILAS MIRASHI
91
I
3
PRAMOD PRASAD JOSHI
79
I
6
SHUBHAM VIJAY KULKARNI
75
I
VEDA RAKSHNA NIDHI TRUST - VIJAYADASAMI 2014 POORTHI EXAMINATIONS
SUKLA YAJUR VEDAM - KRAMANTHAM
KANVA SAKHA
ROLL NO.
NAME
PERCENTAGE
CLASS
4
ANAND JOSHI
83
I
1
SAI MANIKANTA VENKATESH SHARMA P
80
I
3
SURYA DATTA SHARMA H V
66
II
2
MOHAN DATTA SHARMA H V
62
II
VEDA RAKSHNA NIDHI TRUST - VIJAYADASAMI 2014 POORTHI EXAMINATIONS
SUKLA YAJUR VEDAM - KRAMANTHAM
MADYANDHIN SAKA
ROLL NO.
NAME
PERCENTAGE
CLASS
1
PRASAD CHAVADKHE
55
III
VEDA RAKSHNA NIDHI TRUST - VIJAYADASAMI 2014 POORTHI EXAMINATIONS
SUKLA YAJUR VEDAM - GHANANTHAM
MADYANDHINA
ROLL NO.
NAME
PERCENTAGE
CLASS
2
NEEKHIL NITIN BHALERAO
83
I
3
VIJAYA HEMANTH BHALERAO
82
I
1
SHASHANK BALASAHEB KULKARNI
80
I
VEDA RAKSHANA NIDHI TRUST - VIJAYADASAMI 2014 POORTHI EXAMINATIONS
KRISHNA YAJUR VEDAM - KRAMANTHAM
ROLL NO.
NAME
PERCENTAGE
CLASS
23
NAGA JITHENDRA VENKATA SAI V
96
I
25
SANKARA RAMAN C
96
I
24
PATANJALI U Y
95
I
17
MURALI N
94
I
22
MAHESH CHANDRA T
94
I
18
MANJUNATH S R
93
I
8
RANGANATHAN J
90
I
3
VIGNESH SHARMA D
90
I
20
RANGAMANI N
88
I
12
MAHABALESHWAR SHANKARLING
88
I
27
IYAPPAN SHARMAA S
88
I
28
CHANDRASHEKAR SHARMA V
87
I
29
KARTHIKEYAN K S
85
I
19
SARANGA RAJAN V C
83
I
4
VINOTH KUMAR K D
82
I
11
SAPTHA GIRI S
80
I
5
UDAY BHASKAR V
79
I
31
NARASIMHA RAO D V S
77
I
33
PRAVEEN KUMARA SARMA JSVN - HNY NO. 60
77
I
34
RAMESH SARMA DRAVID
75
I
30
PAVAN KUMAR SHARMA MVGR
72
II
32
SIVAKUMAR R
72
II
15
NITHIN KULKARNI M
70
II
VEDA RAKSHANA NIDHI TRUST - VIJAYADASAMI 2014 POORTHI EXAMINATIONS
KRISHNA YAJUR VEDAM - KRAMANTHAM CONTINUED
ROLL NO.
NAME
PERCENTAGE
CLASS
16
KARTHIKEYA SHARMA A
68
II
1
RAJAGANESAN M
68
II
21
CHAITHANYA CHARAYALU C H V
67
II
10
MANI KANDAN V
67
II
2
VENKATESH J
65
II
26
VASUDEVA SHARMA S
57
III
7
NAGRAJAN S
55
III
6
HARI KRISHNA S K
0
WITHDRAWN
9
ARAVINDAN G
0
ABSCENT
13
SUVEER KUMAR SARMA P
0
WITHDRAWN
14
PAVITHRAN S
0
ABSCENT
VEDA RAKSHANA NIDHI TRUST - VIJAYADASAMI 2014 POORTHI EXAMINATIONS
KRISHNA YAJUR VEDAM - GHANANTHAM
ROLL NO.
NAME
PERCENTAGE
CLASS
2
HARAN RAMANATHAN
98
I
5
NAGARAJ GAYATRI
95
I
4
ANANTHA KRISHNAN H
92
I
3
SHIVAKUMAR R
84
I
1
VIGNESH A
83
I
VEDA RAKSHANA NIDHI TRUST - SANKARA JAYANTHI 2014 POORTHI EXAMINATIONS
SAMA VEDAM - POORVABHAGHAM
KAUTHUMA SAKHA
ROLL NO.
NAME
PERCENTAGE
CLASS
1
KRISHNAN V
95
I
3
RAGHURAMAN S
95
I
2
VISHWA ANANTHA KRISHNAN S
94
I
VEDA RAKSHANA NIDHI TRUST - SANKARA JAYANTHI 2014 POORTHI EXAMINATIONS
SAMA VEDAM - UTTARA BHAGHAM
ROLL NO.
NAME
PERCENTAGE
CLASS
1
KARTHIKEYAN R
90
I
---
---