Page load depends on your network speed. Thank you for your patience. You may also report the error.
Loading...
Jayanthi Mahotsavam of His Holiness
3-5 March 2016
at Shri Kanchi Kamakoti Peetam, Kanchipuram
Jayanthi Day - Saturday - 5th March 2016
With the benign blessings of HH Pujyasri Jayendra Saraswathi Shankaracharya Swamigal, the 47th Jayanthi Mahotsav of HH Pujyasri Sankara Vijayendra Saraswathi Shankaracharya Swamigal will be celebrated at Shrimatam, Kanchipuram from 3rd to 5th March 2016.
Veda Parayanam, Veda Vidwat Sadas, Vedanta Sadas, Special homas for lokakshema, Namasankeerthanam and musical concerts will be held on all the three days. 
Devotees are invited to participate in the Mahotsavam and receive the blessings of Pujyasri Acharya Swamijis.
జగద్గురువులు పూజ్యశ్రీ శంకరవిజయేంద్ర సరస్వతీ శంకరాచార్యస్వామివారి జయంతోత్సవాలు
మార్చి 3-5, 2016. శ్రీ కంచి కామకోటి పీఠం, కాంచీపురం
జయంతి - శనివారం మార్చి 5, 2016 నాడు.
జగద్గురువులు పూజ్యశ్రీ జయేంద్ర సరస్వతీ శంకరాచార్యస్వామివారల దివ్య ఆశీస్సులతో జగద్గురువులు పూజ్యశ్రీ శంకరవిజయేంద్ర సరస్వతీ శంకరాచార్యస్వామివారల 47వ జయంతోత్సవాలు కాంచీపురం శ్రీ మఠమునందు 2016 మార్చి 3 నుండి 5 వరకూ జరుగుతాయి.
వేదపారాయణం, వేద విద్వత్ సదస్సు, వేదాంత సదస్సు, లోక క్షేమార్థమై విశేష హోమాలు, నామసంకీర్తనము, సంగీత కచేరీలు ఈ మూడూ రోజులూ జరుగుతాయి.
భక్తులను ఈ మహోత్సవములో పాల్గొని పూజ్యశ్రీ ఆచార్య స్వాముల దీవెనలు పొందుటకై ఆహ్వానిస్తున్నాము.
३ से ५ मार्च २०१६ तक श्री काँची कामकोटी पीठ ,काँचीपुरम मे श्रद्धेय पूज्यश्री शंकर विजयेन्द्र सरस्वती शकंराचार्य स्वामीजी का जयंती महोत्सव आयोजित किया गया है।
जयंती दिन - शनिवार -५ मार्च २०१६ 
श्रद्धेय पूज्यश्री शंकर जयेन्द्र सरस्वती शकंराचार्य स्वामीजी के आशीर्वाद से ,श्रद्धेय पूज्यश्री शंकर विजयेन्द्र सरस्वती शकंराचार्य स्वामीजी का ४७ वाँ जयंती महोत्सव ,३ से ५ मार्च तक काँचीपुरम के श्रीमठ मे मनाया जायेगा।
इन तीनों दिन, वेद पारायण ,वेद विद्वत सदा,वेदान्त सदा,लोकक्षेम के लिये विशेष होम ,नामसंकीरतन एवं संगीत कान्सर्ट का आयोजन किया गया है।
भक्तों को इस कार्यक्रम मे सम्मिलित होके पूज्यश्री आचार्य स्वामीजी से आशीर्वाद लेने के लिये आमंत्रित किया जाता है।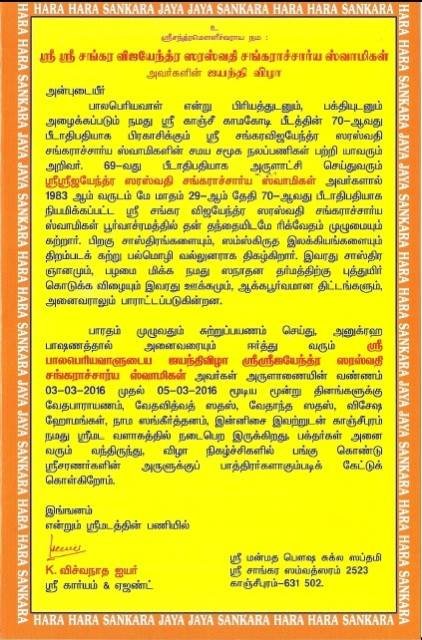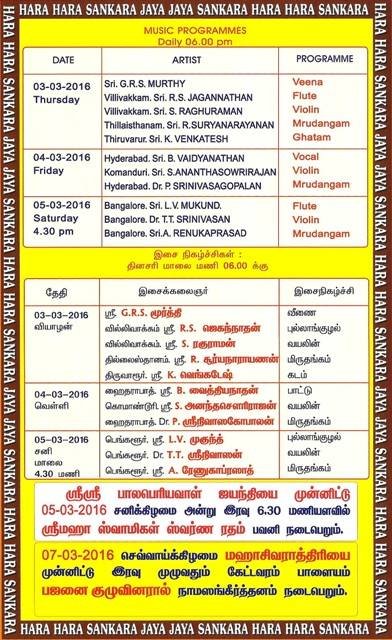 ---
---