Page load depends on your network speed. Thank you for your patience. You may also report the error.
Loading...
Flood Relief - Shrimatam's Call for participation
A brief note was released by Srimatam today urging devotees to participate in relief efforts for those affected by the recent rains in Kerela and parts of Karnataka.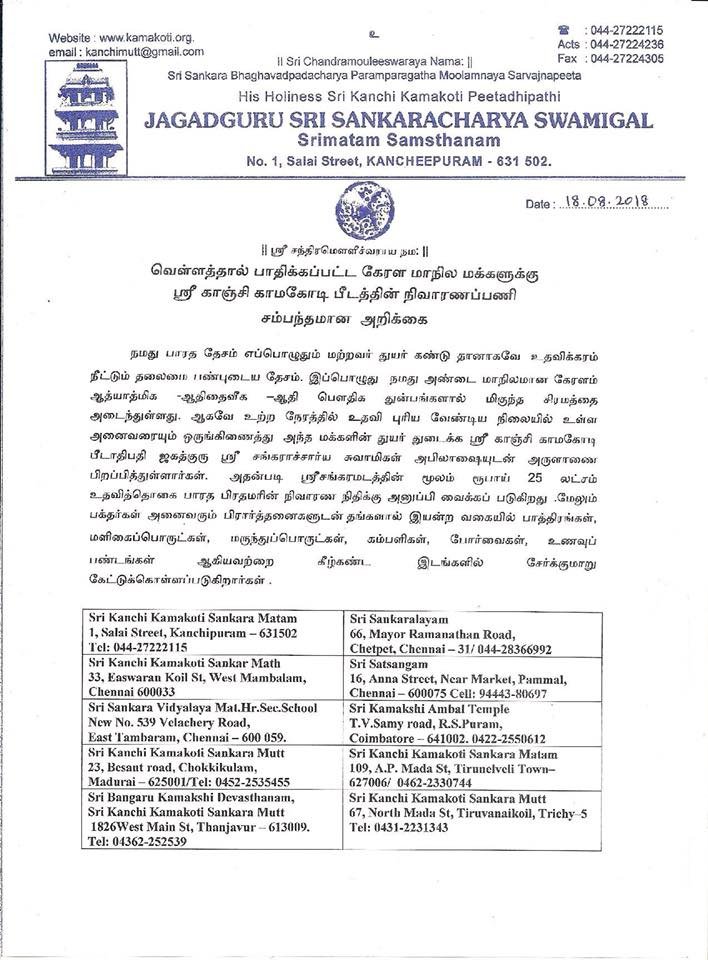 The note says that "As per the directions and wishes of His Holiness Pujya Shri Shankaracharya Swamigal, devotees along with prayers may also contribute materials like stoves, new bedsheets, vessels, basic medicines, food materials etc to various Sankara Math branches in Chennai, Tiruvanaikkaval, Thanjavur, Madurai, Coimbatore & Tirunelveli". 

A Demand Draft of Rupees Twenty Five Lakhs (Rs. 25,00,000) was given to the Prime Minister's Relief Fund. 

Those willing to contribute through Srimatam may do online via www.kanchimuttseva.org and write purpose of donation for follow up.

Sarees from Kamakshi Ambal Temple given
With benign blessings of Pujyashri Shankaracharya Swamigal, a consignment of sarees from Sri Kamakshi Ambal Temple, Kanchipuram was handed over to Collectorate, Kanchipuram today 19 Aug. as relief material for the Kerala flood affected.‬

---
---