78th Jayanthi of His Holiness celebrated
3 August 2012
3 Aug 2012, Kanchipuram

The 78th Jayanthi of His Holiness Pujyasri Jayendra Saraswathi Sankaracharya Swamiji was celebrated at Shri Kanchi Kamakoti Peetham Shrimatam, Kanchipuram on 3 August 2012 with devotional fervour. On the Jayanthi day, His Holiness blessed devotees at 5.00 a.m. with Viswaroopa Darshan. Shrimatham reverberated with the Mangalavadya Nada Sumanjali Samarpanam performed by 108 Nadaswaram and Thavil Vidwans. His Holiness offered prayers at the Adhisthanam of HH Pujyasri Chandrasekharendra Saraswathi Mahaswamiji. His Holiness Pujyasri Jayendra Saraswathi Sankaracharya Swamiji and Pujyasri Sankara Vijayendra Saraswathi Sankaracharya Swamiji next visited Shri Kamakshi Ambal's temple. Pujyasri Acharya Swamiji performed Puja to Devi Kamakshi and offered a Golden Kreetam (crown) to Devi Kamakshi. His Holiness offered prayers at the Shrine of Shri Adi Shankara in the temple premises. As per customs, the temple honours and prasadams were offered to His Holiness here.
His Holiness returned to Shrimatham and the Jayanthi celebrations began with Vedic chanting and recital of Shrimatam Swastivachakam. Welcome address was presented in Sanskrit. Author and devotee of His Holiness, Shri A.M.Rajagopalan described the qualities of Pujyasri Acharya Swamiji and told the assembled devotees how blessed they were to be the devotees of the Acharyas and to participate in the Jayanthi celebrations and receive the Blessings of the Gurus. Ashtotra Namavali of His Holiness Pujyasri Jayendra Saraswathi Shankaracharya Swamiji was recited and Swarna Pada Puja and Abhishekam was performed to His Holiness by His Holiness Pujyasri Shankara Vijayendra Saraswathi Shankaracharya Swamiji. This was followed by Pushpabhishekam where His Holiness performed abhisheka to HH Pujyasri Jayendra Saraswathi Shankaracharya Swamiji with different varieties of flowers. His Holiness was adorned with flower garlands and kreetams(crowns), followed by Deeparadhana. HH Pujyasri Jayendra Saraswathi Shankaracharya Swamiji then performed the Shri Tripurasundari Sametha Shri Chandramouleeswara Puja.
Veda Parayanam, Homam, Vidwat Sadas and spiritual discourses were held at Shrimatham. Kanya Puja , Suvasini Puja, Dampati Puja and Tiruvilakku Pujas were performed and the participants received the blessings of His Holiness. Prasadams from various temples including Shri Tirumala Tirupati Devasthanams were offered to His Holiness. In the evening, a series of Bhajans were performed by Student Bhajan groups from Shri Shankara Vidyalaya and other schools. Asthana Vidwans of Shri Kanchi Kamakoti Peetham Shri Srinivas and Shri Rajesh performed Mandolin recital as part of the Guru Vandana Nada Samarpanam programme. Vidyarthis from various pathashalas chanted the Vedas and Mantras and obtained the Blessings of Pujyasri Acharya Swamiji. A herbal exhibition was held at Shrimatham in which various herbs with labels were displayed. Every year, on the occasion of Jayanthi, various materials are distributed to the needy, to help them start some small scale business and earn their livelihood. This year too, His Holiness distributed Sewing Machines, Iron Boxes, etc. to such needy persons. Devotees from far and wide paid their obeisance to His Holiness on the occasion and received the bountiful blessings of Pujyasri Acharya Swamijis.

Jayanthi Mahotsavam Photos (click on the photo for larger picture):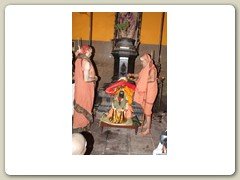 Their Holinesses at the Adhistanam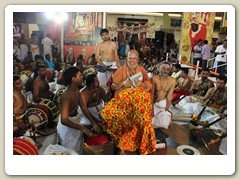 His Holiness blessing the 108 Mangalavadyam groups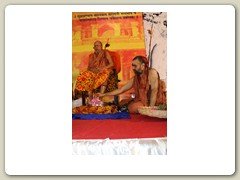 Swarna Pada Puja to His Holiness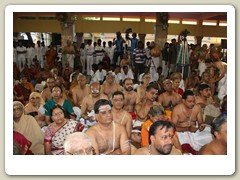 Devotees witnessing the Swarna Pada Puja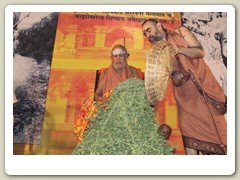 Pushpabhishekam to His Holiness
Pushpabhishekam to His Holiness
Shower of flowers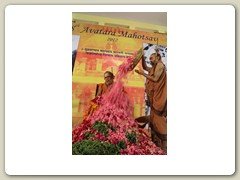 Pushpabhishekam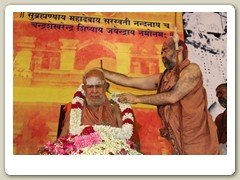 Flower garland being offered to His Holiness
Rose Garland being offered to His Holiness
Kreetam being offered to His Holiness
Flower Kreetam to His Holiness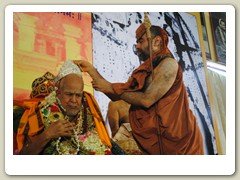 His Holiness being adorned with Silver Kreetam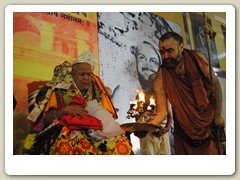 Deeparadhana to His Holiness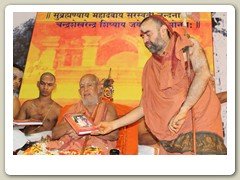 Book of His Holiness' Anugraha Bhashans being released
His Holiness blessing devotees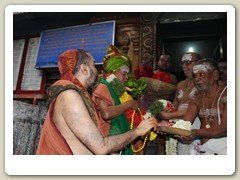 Temple Honours being accorded to His Holiiness at Kamakshi Devi Temple
Homa Poornahuti
108 Mangala Vadyams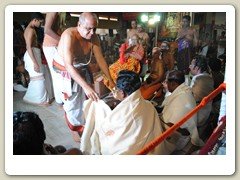 Nadaswara Vidwans receiving blessings
Tiruvilakku Puja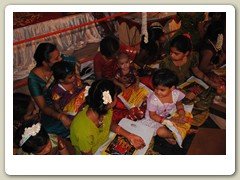 Kanya Puja
Shankara Vidyalaya Students performing Bhajans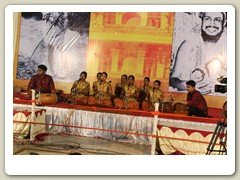 School students performing Bhajans
Mandolin concert by Sri.U.Srinivas and Sri.U.Rajesh
Go Dhanam being offered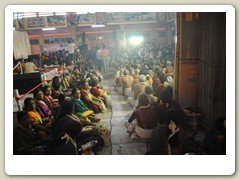 Dampati Puja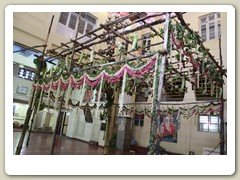 Fruit and Vegetable Toranam in the Puja Hall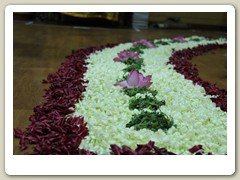 Path of Flowers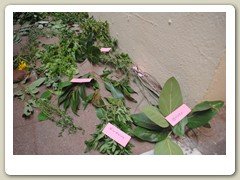 Herbal Exhibition