His Holiness Inaugurates Shankara Bhavanam & Veda Vyasa Bhavanam
at Sri Sankara Matam, Tiruvannamalai


30 Nov. 2011
His Holinesses Pujyasri Jayendra Saraswathi Shankaracharya Swamiji inaugurated the new buildings - Shankara Bhavanam and Veda Vyasa Bhavanam at Tiruvannamalai Shankara Matam on Wednesday, 30 Nov. 2011. The deities of Sri Kamakshi and Sri Adi Sankara in the Matam were adorned with the newly-made Kavachams (metal coverings) on the same day. Bhumi Puja was performed for the construction of a Yatri Nivas at the Matam premises in the benign presence of His Holiness. The Veda Vyasa Bhavanam has been constructed to accommodate the Veda Patasala students. The Goshala was inaugurated and Bilva Vriksham was planted. Devotees performed pushpanjali and received the blessings of His Holiness.

His Holiness being received with Poornakumbham

His Holiness inaugurating the Shankara Bhavanam

His Holiness giving darshan



Patashala students receiving the blessings of His Holiness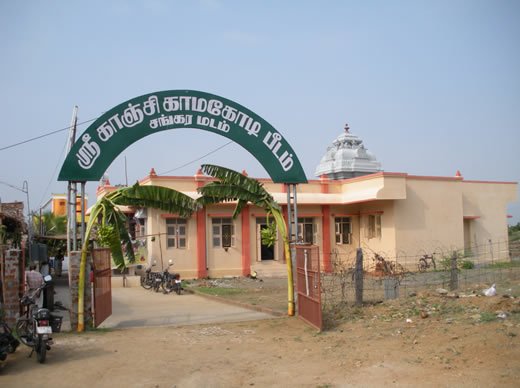 About the Sankara Matam, Tiruvannamalai:
Tiruvannamalai is the famous Agni Kshetra where Lord Shiva assumed the formless- form of a huge blazing flame. The Arunachala Hill is revered as Shiva himself and devotees visiting this holy town make it a point to perform Girivalam around the sacred hill. Sri Sankara Matam is located on the Girivalam path. Regular pujas are offered to the Shrines of Sri Adi Shankara and Sri Kamakshi Devi inside Srimatam. A Veda Patasala and goshala is located inside the Srimatam premises. On all the full-moon days(Pournami), Chandi Homam is performed at Srimatam. Click here to view the photo profile.