Page load depends on your network speed. Thank you for your patience. You may also report the error.
Loading...
Their Holinesses visit Village Temples in
Acharapakkam & Thirukazhukundram
April&June 2012
Their Holinesses Pujyasri Shankaracharya Swamijis of Shri Kanchi Kamakoti Peetham visited around 40 villages in the Acharapakkam and Thirukazhukundram blocks and visited 47 temples. Their Holinesses were received with traditional poornakubham and devotional fervor by the villagers at the various Shiva and Vishnu Temples. Last year, Their Holinesses had visited temples in the Uttiramerur block.
With the blessings of Pujyasri Acharya Swamijis, the Thirukovil Vazhipattu Kuzhu was formed to provide support to the village temples. The Kuzhu has objectives of enabling the conduct of Nitya Puja in village temples, to involve the villagers to participate in the worship and upkeep of their temples, distribution of materials required for nitya pooja, distribution of religious books & cassettes, organize bhajans and encouraging age-old traditions of chanting Tirumurai, Divyaprabandham, Tiruppugazh, and also to conduct other activities like quiz, yoga competition, shloka chanting etc in the temple premises to involve children and youth of the villages.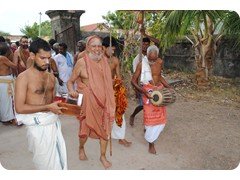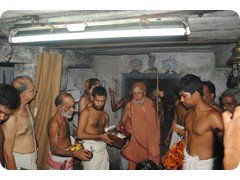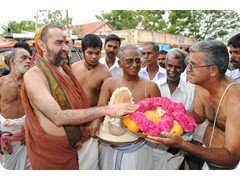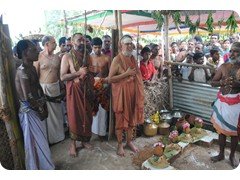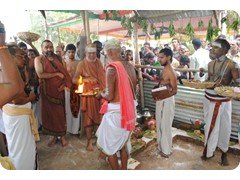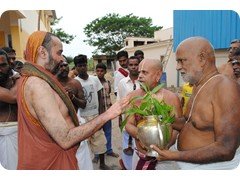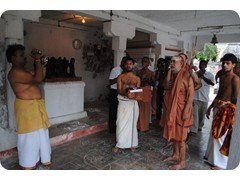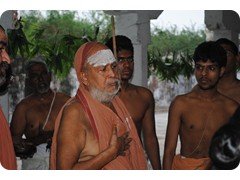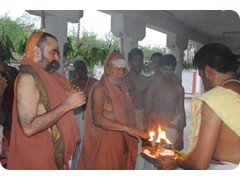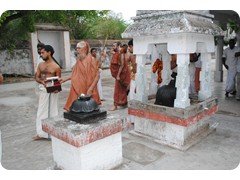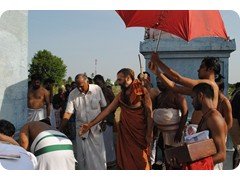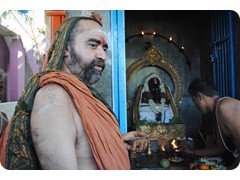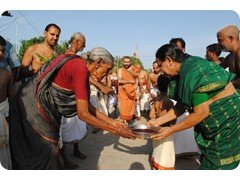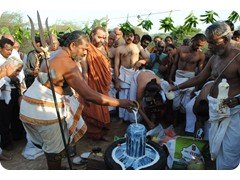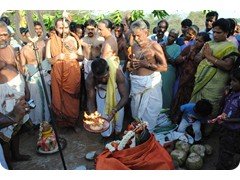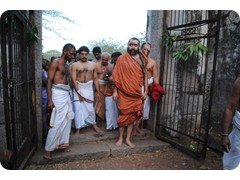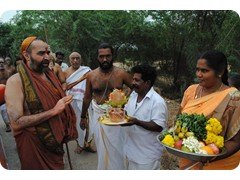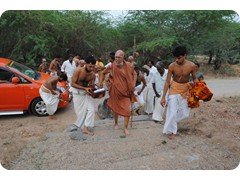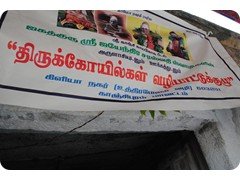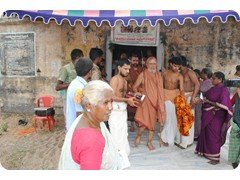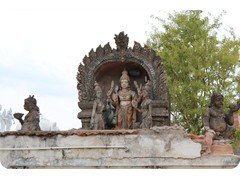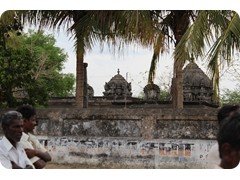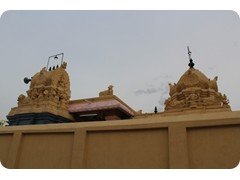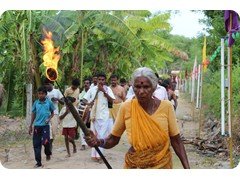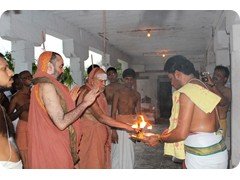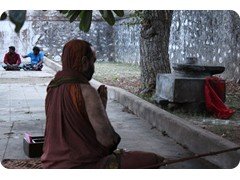 Details of the temples/villages visited by Their Holinesses:

Visit to Acharapakkam – 10.04.2012
Sl.No.
Village Name
Name of God
Name of Goddess
1
Thozhupedu
Sri Prasanna Varadharaja Perumal
Sri Perundevi Thayar
2
Minnal, Kezh Minnal
Sri Visvanathar
Sri Visalakshi
3
Siruthamoor
Sri Srinivasa Perumal
Sri Alamelu Mangai Thayar
4
Siruthamoor
Sri Agastheeswarar
Sri Akliandeswari
5
Baburayanpettai
Sri Vijaya Varadharajar
Sri Vijayavalli Thayar
6
Kezh Athivakkam
Sri Agastheeswarar
Sri Amudhambigai
7
Porparankaranai
Sri Kaaraneeswarar
Sri Swarnambigai
8
Kongaraimampattu
Sri Lakshmi Narayana perumal
---
9
Kongaraimampattu
Sri Maleeswarar
---
10
Orathi
Sri Parameswarar
Sri Parvathambigai
11
Orathi
Sri Prasanna Varadharaja Perumal
Sri Perundevi Thayar
12
Ananthamalgalam
Sri Varadharajar
Sri Sridevi, Sri Boodevi Thayar
13
Ananthamalgalam
Sri Anandhanaadheeswarar
Sri Anandhavalli
Visit to Acharapakkam – 20.06.2012
Sl.No.
Village Name
Name of God
Name of Goddess
1
Theetaalam
Sri Theerthagireeswarar
Sri Thirupurasundari
2
L. Endathur
Sri Ekambareswarar
Sri Kamakshi
3
Kiliyanagar
Sri Agastheeswarar
Sri Akilandeeswari
4
Kiliyanagar
Sri Veda Narayana Perumal
Sri Sridevi, Sri Boodevi Thayar
5
Keezhamoor
Sri Agastheeswarar
Sri Vadivudaiyambal
6
Paadhari
Sri Kailasanadhar
Sri Kamakshi
7
Paadhari
Sri Varadharaja Perumal
Sri Sridevi, Sri Boodevi, Sri Perundevi Thayar
8
Velamoor
Sri Agastheeswarar
---
9
Velamoor
Sri Sundara Varadharaja Perumal, Sri Lakshmi Narayana Perumal (Urchavar)
Sri Sridevi, Sri Boodevi Thayar
10
Madhur
Sri Agastheeswarar
Sri Maragadhambigai
11
Madhur
Sri Madhava Perumal
Sri Sridevi, Sri Boodevi Thayar, Sri Madhava Piriya
12
Thirumukkadu
Sri Mukkatheeswarar (Pattai Lingam) (Vayu) Suyambu
Sri Mukthambigai
Visit to Thirukazhukundram – 21.06.2012
Sl.No.
Village Name
Name of God
Name of Goddess
1
P V Kalathur
Sri Adhipureeswarar
Sri Jothivala Nayagi
2
P V Kalathur
Sri Kothanda Ramaswamy (Dharbasayana Ramar)
---
3
P V Kalathur
Sri Vaikundanatha Perumal (Veetrirundha Perumal)
Sri Ahobila Valli Thayar
4
P V Kalathur
Sri Munkudumeeswarar
Sri Meenakshi
5
Ponpadhar Koodam
Sri Sathurbuja Kothanda Ramaswamy
Sri Janaki Thayar
6
Aanoor
Sri Veetrirundha Perumal, Sri Deva Narayana Perumal
Sri Sridevi, Sri Boodevi Thayar
7
Aanoor
Sri Asthirapureeswarar
Sri Thiripurasundari
8
Saaloor
Sri Sankarapureeswarar
Sri Gomathi Ambal
9
Mambakkam
Sri Adhikesava Perumal
Sri Sridevi, Sri Boodevi Thayar
10
Vazhuvadhur
Sri Agnipureeswarar
Sri Soundarya Nayagi
11
Uruthras Koil
Sri Rudhrakoteeswarar
Sri Pennin Nallal (Abirami)
Visit to Thirukazhukundram – 24.06.2012
Sl.No.
Village Name
Name of God
Name of Goddess
1
Thirukazhukundram
Sri Thirthagireeswarar
Sri Pirabambigai
2
Thirukazhukundram
Sri Lakshmi Vijayagar (Adhi Vinayagar)
---
3
Pulikundram
Sri Lakshmi Narayana Perumal
Sri Padmavathi Thayar
4
Echur
Sivan (in forest)
---
5
Kuzhipanthandalam
Sri Nithyakalyaneeswarar
Sri Mangalambigai
6
Kuzhipanthandalam
Sri Lakshmi Narayana Perumal
---
7
Manamai
Sri Sivaloganathar
Sri Kamalambigai
8
Kudiperambakkam
---
---
9
Nadivakkarai
Sri Agastheeswarar
---
10
Esankaranai
Sri Salai Vinayagar
---
11
Veerapuram
Sri Srinivasa Perumal
Sri Padmavathi Thayar
Devotees desirous of participating in the Thirukovil Vazhipattu Kuzhu can contact Sri. Pammal Viswanathan (cell No.91-94443-80697), Coordinator
Related News:
---