Page load depends on your network speed. Thank you for your patience. You may also report the error.
Loading...
Tour Programme(Yatra) of His Holiness
Place of Camp now
21 Apr. eve. to 29 May 2019 - Sri Sankara Vidyalaya, Thoraipakkam, Chennai
Click here for location map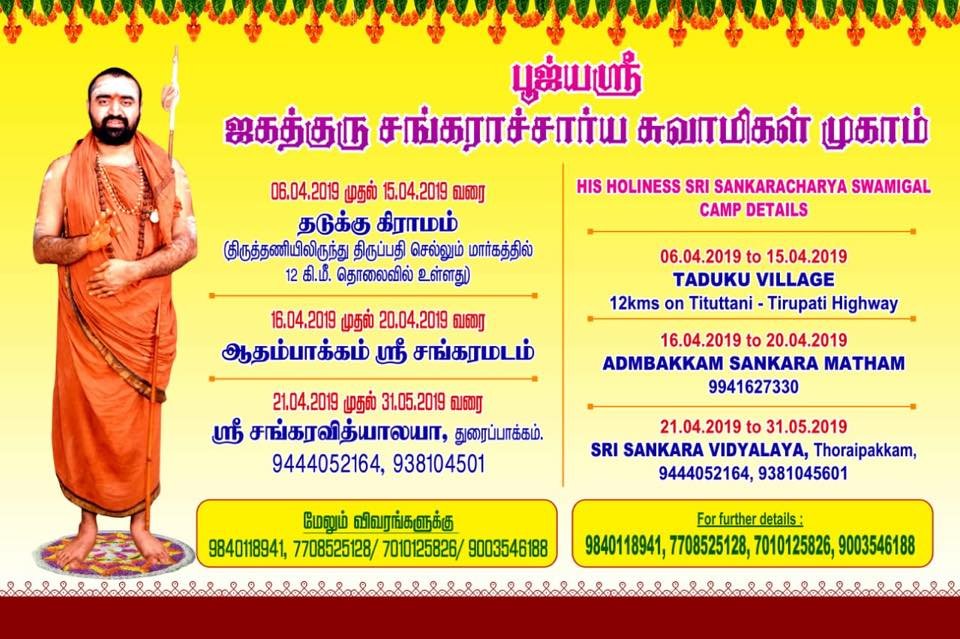 Details of Previous camp
15 Apr.to 21 Apr. - Sri Shankara Matam at Adambakkam, Chennai
5-15 Apr. - Vasanta Navaratri Puja at Taduku Village (Opp. Venkatanarasimharajuvaripeta Rly Station) Nagari Mandal, Chittor Dist – 517590 A.P. - 12 kms from Tiruttani

4 Apr. - Visit to Tirumala
1 to 4 Apr - Puja at Sri Kanchi Kamakoti Peetam Paduka Mandapam, Ramakrishna Marg, Vinayak Nagar, Tirupati.
31 Mar. 2019 - HH Pujyashri Shankara Vijayendra Saraswati Shankaracharya Swamigal started on Yatra with Sri Chandramouleeswara Puja ater 6 pm from Shrimatam to Tirupati.
---