Lalitha Kalyanam performed in Boston
19-21 Apr. 2019

With the benign blessings of our acharya Jagadguru Sri Sri Sankara Vijayendra Sarasvati Svamigal of Kanchi Kamakoti Peetam, the Lalitha Kalyana mahotsavam took place in the Greater Boston area to commemorate the 1st Ārādhanā of Jagadguru Sri Sri Jayendra Sarasvati Svamigal, the 69th Peetādhipathi of Kanchi Kamakoti Peetam. The program was organized as a joint effort of Kanchi Kamakoti Seva Foundation USA, Sankara Healthcare Foundation and Gnanananda Seva Samajam USA (GSS USA). The core organizing team were Smt. Madhumathi Venkat and Shri. Venkat Krishnamurthy of Ashland, Smt. Nithya Murali and Shri. Murali Gopinathan of Shrewsbury, and Smt. Deepa Rajesh and Shri. Rajesh Vaidheeswarran of Northborough MA. A lot of āstika bhaktās donated their time and money generously to make the event happen.

The mahotsavam was celebrated starting on Chitra Pournami evening of 19th with a vocal and Veena concert by the students of Smt. Aparna Balaji of Abhyaas School of Music and Smt. Durga Krishnan of New England School of Carnatic Music, respectively. The program featured songs on Ambal and set the tone for the next two days of blissful music that was to follow.

The bhāgavathās came from across the USA, with Shri KS Gurunathan coming from California, Shri Satish from New Jersey, Shri Ravi Radhakrishnan from Maryland and Shri Muthuswamy bhagavathar from New Jersey. Shri Muthuswamy Bhagavathar's arrival was a true blessing because he had arrived in the USA only a week before before the event and was only told the night before the event and he kindly agreed and made it a point to come and play harmonium for the event. and be a part of it for both days. He has played the harmonium for Haridoss Giri svami himself, and has traveled with him to many events and for such a bhagavathar to play the harmonium for the US audience was a true honor. Percussionist bhāgavathās from outside the Boston area were Shri Dhamodharan, Shri Guruswamy and Shri Sriram.

Shrimathi Daya Ravi, one of the founders of the GSS USA, also came from Maryland to attend the event. She supported, encouraged and guided the local organizers with a lot of kind words and guidance. Smt. Vidhya Guruvayurappan was an amazing source of kindness and help to everyone, constantly checking up on the work and offering her help and guiding us through the program all the way to the end.

Many local bhāgavathās and instrumentalists attended and participated in the event including Shri Kiran on the violin, Shri Mahalingam and Shri Pravin on the mridangam, Shri Tarakaraman on Dolki, Shri Subbu on Harmonium and Shri Ganesh Krishnan on vocal as supporting bhāgavathās.

The program started with a Ganapathi homam performed by Bhairavasundara shivachariar, Vaidheeswara Iyer, Srikanth Iyer and Krishnamoorthy Iyer, followed by guru paduka puja for padukas from both the guru paramparas - Kanchi Kamakoti Guru parampara and Svami Gnanananda Giri's lineage. The abhishekams to the padukas were done with rudram chanting and following that, the guru ashtothram for each guru was read and the archana performed for the respective paduka. Paduka pooja concluded with the chanting of Thotakashtakam by the devotees.

This was followed by Shodasha Suvasini puja. The sarees and all materials for the Suvasini puja were procured thanks to a lot of help from Smt. Vidhya Guruvayurappan of NJ, Smt. Lakshmi Chandru and Shri Chandru of Chennai. Suvasinis were given sarees to wear, seated and Rajesh Vaidheeswarran and Deepa Rajesh cleaned the feet of all 16 suvasinis. Nalangu was performed and flowers, bangles, chandhanam, kumkumam were distributed. Archana, Dhoopam, Deepam, Vishesha dravya samarpanam, Deeparathanai and Aarathi were performed by Smt. Savithri Krishnan and Shri. Krishnan Vaidyanathan, under the guidance of Shri Gurunathan Bhagavathar, followed by Pradhakshina Namaskaram and chanting of navarathna mala. After getting the Suvasinis' blessings, the namasankeerthana program started in right earnest.

The program started with Aarthi hara stotram, Siva Thotaka Mangalam, Gnanananda Swamigal, Swami Haridhoss Giri, three Gurus (Sathguru Swamigal, Bodhendra Swamigal, Sridhara Ayaval), Kanchi Maha periyava. Shri Gurunathan bhagavathar explained about Siva nama Sankeerthana pathadhi and the 62nd acharya of Kanchi Kamakoti Peetam Jagadguru Sri Sri Chandrashekarendra Sarasvati Svamigal's ashtapadhis and the history behind the move from Kanchi to Kumbakonam. Gurunathan bhagavathar also explained about how our Periyava has been very keen to reinvigorate and popularize Lalitha Kalyanam across the world.

This was followed by sātvik lunch and the second part of the program started with Guru Dhyanam continued where additional krithis were sung on Kanchi Acharyals, other gurus, Guru Abhangs, Santh/Sadhukal Abhangs - Kabir Das, Mira Bai, samaya naalvar etc. Following this, the Siva Ashtapathis from 1-12 were sung and then Siva tharangam, Gopalakrishna bharathiyar, Thyagarajar, Oothukadu songs were sung as well.

After a short break for evening anushtanams, the evening program started with siva pooja and devatha dhyanam followed by Siva Divya Nama Keerthanam where avahanam of Bhagavan was done to the lamp and the lamp was placed in the center of the room and everyone young and old danced around the lamp with joy. This was followed by two bharatanatyam dances on ambal by the students of Natyamani School of Dance. This was followed by Mangalam and concluded day's program.

The next day's program started with a Sangraha Padhuka Pooja on stage by priests, and simultaneously Thapovana Vazhipadu songs were sung by GSS members. This was followed by Thotaka Mangalam; 3 gurus, guru abhang, and the remaining ashtapathis were completed. Shri Guruvayurappan of KKSF New Jersey explained some of the history of the bhāgavathās and also spoke about the tradition of the nama sankeerthanam weddings and how it was an opportunity for laukikas to participate in divine weddings. Then the main event of Sri Lalitha Tripurasundari Kalyana Utsavam was conducted with pomp and done by laukikas per nama sankeerthanam tradition, with the thirumāngalyam tied by Shri Krishnamoorthy Iyer to the image of the Lord Kameshvara and Goddess Lalitha Tripurasundari. Simultaneously, a thirumāngalyam was offered to the paduka of Haridoss Giri Svami per GSS tradition by Shri Vaidheeswara Iyer. This was followed by Anjaneya utsavam and then prasadams were offered from Kanchi Kamakoti Peetam to the bhāgavathās with Kanchi Peetam Svasti Vachanam by members of KKSF. This was followed by offering of Prasadams by Bhairavasundara Sivachariar of Boston Sri Kalikambal Shiva Temple and honoring of the bhāgavathās and BAPS Temple elders by KKSF organizing team, followed by offering of flowers to the murthis in the BAPS mandir by Rajesh Vaidheeswarran and distribution of kalyana prasadam. The assembled devotees enjoyed kalyana bhojanam prepared for them before taking leave from this very memorable event which happened with the blessings of our Guru and the grace of Lord Kameshvara and Goddess Lalitha Mahatripurasundari.

Volunteer Photography for the event was done by Shri Pradeep. Pictures of the event are available here https://photos.app.goo.gl/BATusCf5Jcfi8Snh8 Volunteer live streaming of the event was done with equipment and help from Priest Shri Rajesh Hariharan and help from Shri Jagan Balaa. Videos of the program are available here in the playlist https://www.youtube.com/playlist?list=PLkukg8N1Bxn-T8wIIeecj3dQRcB_qrOle

Audio equipment was provided by Shri Karthik Srinivasan of NH, and the Friday evening program's audio was manned by Shri Ramesh Venkatramani and Shri Krishna Rao. The audio for the main program on the 20th and 21st was manned by Shri Dhamodharan from NJ.

So many people who were fortunate to participate by the grace of our Jagadguru Sri Sri Periyava of Kanchi Kamakoti Peetam attended the Lord's wedding and got blessed.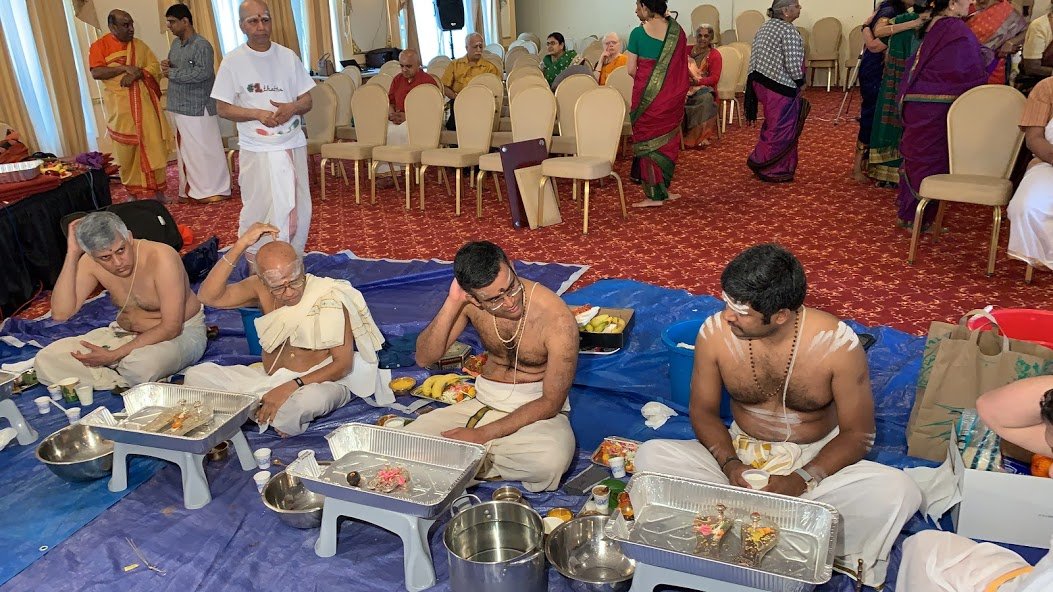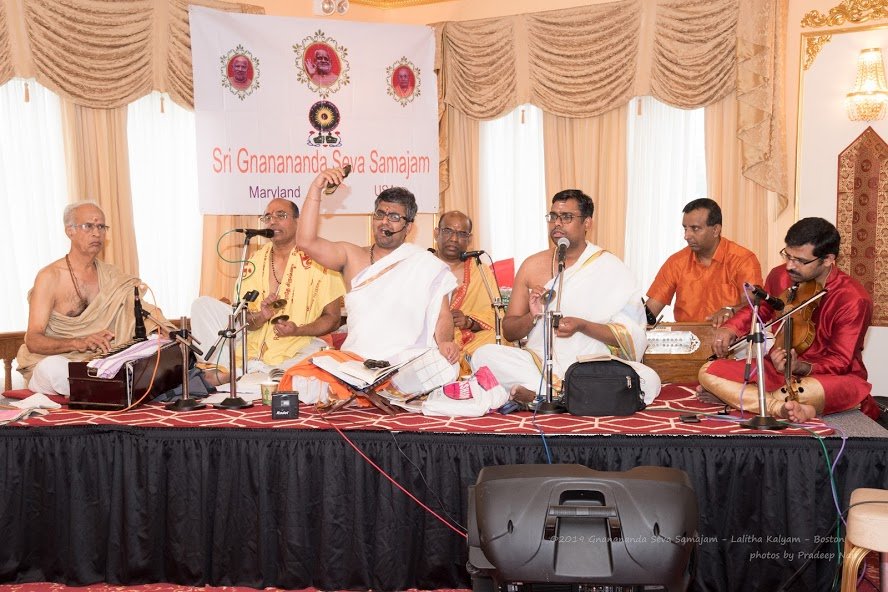 - As reported by Shri Rajesh Vaidheeswaran, USA
---