Page load depends on your network speed. Thank you for your patience. You may also report the error.
Loading...
*****************************************************************
Veda Parayanam held at Swamimalai
26 May 2012
As directed by Jagadgurus Pujyasri Shankaracharya Swamijis of Shri Kanchi Kamakoti Peetham, Veda Parayanam was held at Sri Swaminatha Swami Temple, Swamimalai on 26 May 2012 - Shukla Shasti.
10 Vedic Scholars, 2 each from Rug, Krishna Yajur, Sukla Yajur, Kouthama & Jaimini Sakhas of Sama Vedams rendered Parayanam at the Dakshinamurthy Sannadhi.
The next parayanam will take place on Anusha Nakashatram - 3-06-2012.
Rig Vedam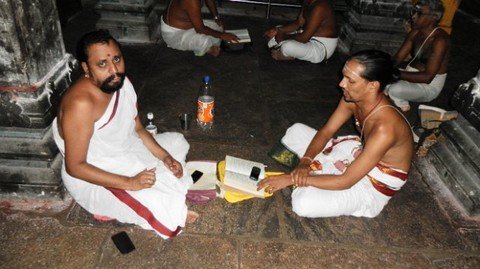 Krishna Yajur Vedam
Shukla Yajur Vedam
Sama Veda - Jaiminya Shakha
Sama Veda - Kouthuma Shakha
**************************************************************************************************
Click here to read in detail about the MONTHLY ANUSHA VEDA PARAYANAM AT SWAMIMALAI
---