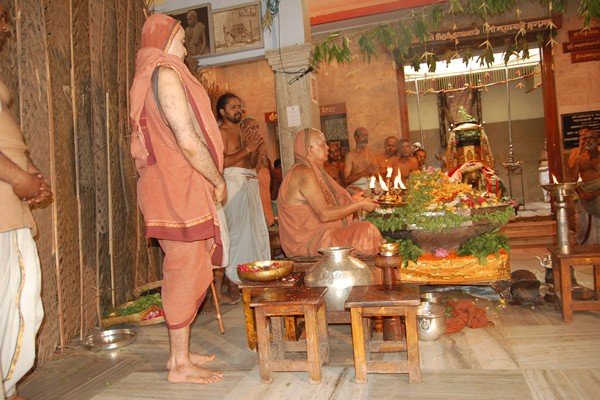 15 July 2011, Kanchipuram

Their Holinesses Pujyasri Jayendra Saraswathi Shankaracharya Swamiji and Pujyasri Sankara Vijayendra Saraswathi Shankaracharya Swamiji performed Vyasa Puja at Shrimatham, Kanchipuram today.
Every year, Vyasa Puja is performed on the Full Moon Day of the Aashada Month, considered auspicious and holy for worshipping the spiritual preceptors beginning with Sage Vyasa, the avatara of Lord Vishnu, who has done great service to humanity by classifying the Vedas, writing the eighteen puranas, the great epic Mahabharata and Srimad Bhagvata.
Earlier in the day, the Utsava Vigraha of Sri Adi Sankara was taken out in a procession along the four Raja Streets around Sri Kamakshi Amman Temple.

Devotees from far and wide offered their obeisance to the Acharya Swamijis on the holy occasion of Gurupoornima and received Their Blessings. Sanctified Mantrakshatam will be given to devotees tomorrow( 16 July 2011).
The Guruvandana Nadasamarpanam programme, a two-month long music festival to be held in the evenings during the Chaturmasya Vratam, commenced this evening with saxophone recital by Sri. G. Ramanathan.
Sri Adi Sankara arrives at Srimatam in procession on palanquin

His Holiness performing Vyasa Puja

Deeparadhana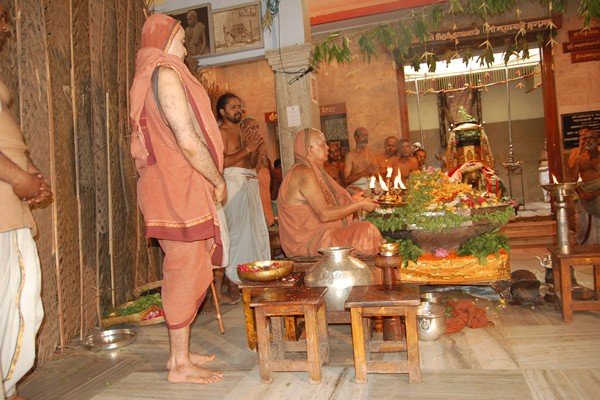 Deeparadhana

s
Devotees witnessing the Vyasa Puja

Sri. G. Ramanathan's Saxophone concert in the evening