Shri Rama Navami celebrated
11-20 April 2013
With the Blessings of Their Holinesses Pujyasri Jayendra Saraswathi Shankaracharya Swamiji and Pujyasri Sankara Vijayendra Saraswathi Shankaracharya Swamiji, Vasantha Navaratri and Rama Navami Mahotsvam was celebrated at Sri Kanchi Kamakoti Peetam Sri Sankara Matam, Kanchipuram.
On the 11th April - Ugadi - Panchanga Puja was performed and Panchanga Pathanam was done. Navaratri Sankalpam and Yagasala Pratishta was performed. Srividya Homam, Avarana Puja Homam, Sri Rama Shadakshari Homam, Srimad Valmiki Ramayana Mula Parayanam, Damanotsavam was performed everyday from 11 to 19 April 2011. On the concluding day, Poornahuti and Rama Pattabhishekam was performed and the parayanam of "Pattabhisheka Sarga" from Yudha Kanda in Ramayana was performed.
Photos taken on the occasion: (Click on the image to view large-sized photographs)
Mangalavadyam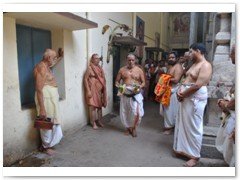 Kalasham with sanctified water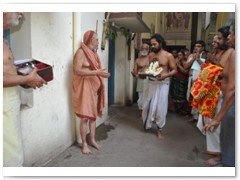 Shri Rama being taken from Yagashala
Shri Ramachandramurthy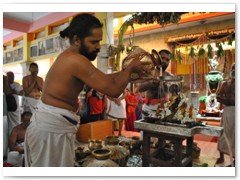 Abhishekam with sanctified water
Their Holiness witnessing the Abhishekam
Abhishekam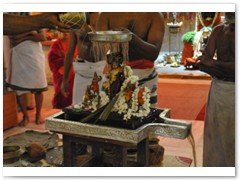 Abhishekam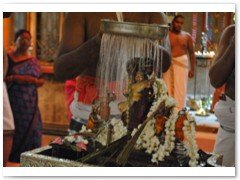 Abhishekam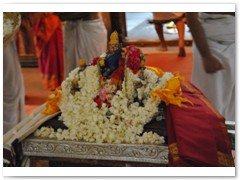 Alankaram and Vastra Samarpanam
Archana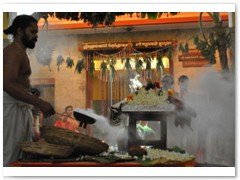 Dhoopam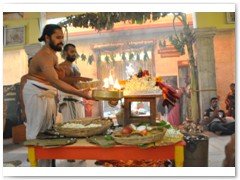 Deeparadhana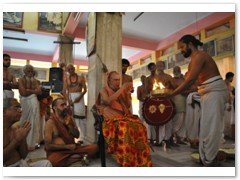 Deeparadhana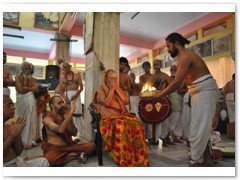 Deeparadhana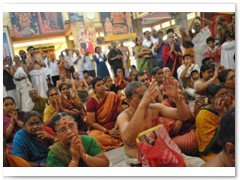 Devotees witnessing the puja
His Holiness performing pushpabhishekam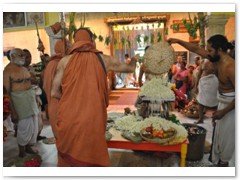 Pushpabhishekam