Adhishthanam of 60th Shankaracharya Swamigal of Kanchi Kamakoti Peetham
The Adhishthanam of 60th Shankaracharya of Sri Kanchi Kamakoti Peetam, Sri Advaitatmaprakashendra Saraswathi Shankaracharya Swamigal, is located in Kizhambi, a village near Kanchipuram . This Acharya was the successor of the celebrated Shri Bhagawannama Bodhendra Saraswathi Swamigal of Govindapuram. The Acharya was also known as Govinda. He was the son of Parasurama, a native of a village adjoining the river Vasistha. His former name was Sruti-Pandita. For some time, he lived in Govindapuram where his predecessor had attained mukti. He was held in very great veneration by Sahaji,  the King of Thanjavur. He attained mukti at Kizhambi, near Kanchi on Krishna Dwitiya in the month of Chaitra of the cyclic year Svabhanu (1704 AD).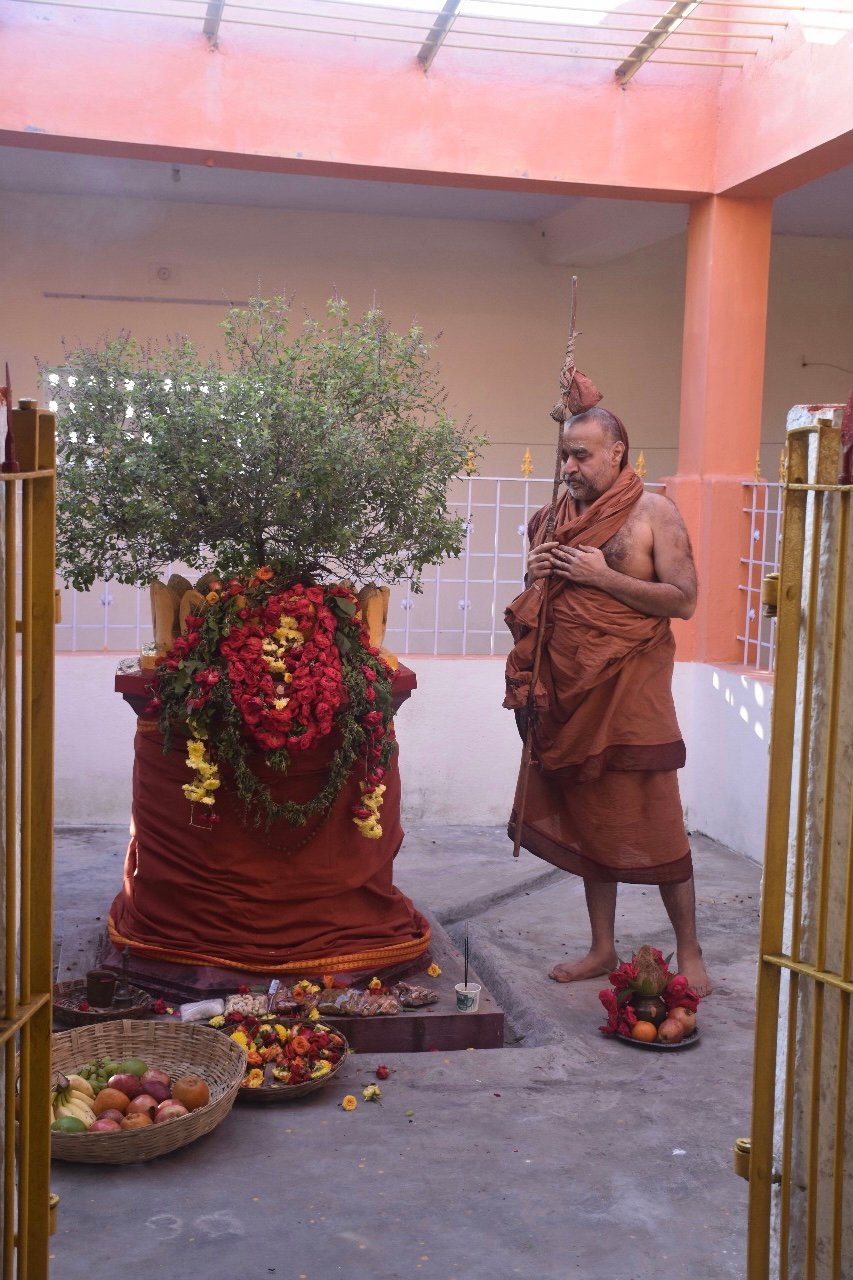 Kizhambi is a small village west of Kanchipuram on the Bengaluru highway. The place is about 10 kms from the present Srimatham at Kanchi. Take the road towards Ekamranathaswamy temple and proceed straight for 8 kms. till you reach the engineering college and just after this take left turn. You will see lush green verdant fields amidst which rests the Adhishtanam.

Several centuries ago, in the 13th Century, the village was given as a gift to the then Shankaracharya of Sri Kanchi Kamakoti Peetham. The book 'The Copper Plate Inscriptons of Sri Sankaracharya Swami of Sri Kanchi Kamakoti Peetam' by Sri Gopinath Rao testifies to this.
नारिकेलाम्रपनसतालवृन्तादिशोभितम्।
अम्बिकापुरनामानं ग्रामचिन्तामणिं ददौ॥
The copper plates mention this gift of this village known as "Ambikapuram" by King Vijayaganda Chola. The village is described as Grama "Chintamani", as a beautiful place endowed with coconut, Mango, Jack Fruit, Palm and other trees.

Many decades back, a Veda Pathashala was being run in the village with blessings of Pujyashri Kanchi Acharyas. Pujyashri Chandrasekharendra Saraswathi Swamigal, Sri Jayendra Saraswathi Swamigal & Sri Sankara Vijayendra Saraswathi Swamigal had camped in the village in 1984 on their way to Kanchi from Kurnool. The Kanchi Matham still holds a few agricultural lands and small tracts of land in the Agrahara. Pujas at the Adhishthanam are being done by Veda Pandit from Kanchi Matham. Pujas in the nearby Ambikapatishwara Temple are being performed with support of the Matham. The small temple has the distinction of having a separate Sannidhi for Ambika, as the Shiva temples in Kanchipuram do not have such Sannidhi for Devi, Kamakshi temple being the sole dedicated Devi temple.
Kanu Pongal Vizha at Kizhambi village
Pujyashri Shankara Vijayendra Saraswathi Shankaracharya Swamigal visited Kizhambi village on January 17, 2021 to bless Kanu Pongal Vizha organised by local villagers. Walking through agricultural fields, Shri Swamigal reached the Adhishthanam & performed Puja & Harathi.


Shri Acharya Swamigal graced the Pongal Vizha held in the rice mill area of a devotee and blessed the participants. Shri Swamigal witnessed several folk art programmes presented by artistes. In the Anugraha Bhashanam Shri Swamigal stressed the need for entertainment based on our native culture which helps to develop a strong mind & body and promotes social harmony & oneness. Click here for photos and details
New Saplings for Kizhambi Adhishthanam
Shri Acharya Swamigal blessed new saplings of coconut, Mango, Jackfruit & Palm trees to be planted in Kizhambi village on June 5, 2021 synchronising with World environmental day.
Echoing the spirit of the inscription describing the greenery in the village, Shri Swamigal blessed the saplings to be planted around the Adhishthanam of Advaitatmaprakashendra Saraswathi Swamigal. The saplings were planted there the same day. Click here for photos and details


P.R. Kannan
---