Sri Kanchi Kamakoti Peetam
Rameswaram, Tamilnadu

Rameswaram is one of the most important religious centres in India. Hailed as the Varanasi of the South, the town has several landmarks associated with Ramayana , including the Ramanathaswamy Temple.
Sri Kanchi Kamakoti Peetam Sankara Matam, Rameswaram is located right on the sea-shore at Agni Teertham, at a short distance from the Ramanathaswamy Temple. The tall tower in the Srimatam has the statues of Sri Adi Sankara and his four disciples facing the sea.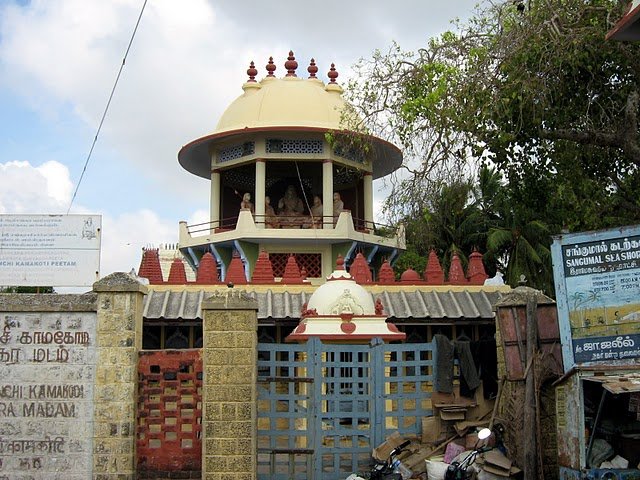 View of statues of Sri Adi Sankara with disciples from Agni Teertham
View of Sri Ramanathaswamy Temple Gopuram from Sri Sankara Matam
The main deity at Sri Sankara Matam is located in a three story tower bloc. On the ground floor, one can have the darshan of Lord Dakshinamurthy facing the sea. The walls of first floor tower have the inlaid sculptures (painted) of various saints like Bakta Ramadass etc. Sri Acharya's Paduka Mandir is located in the tower. Daily pujas are offered in the Mandir. The Life History of Adi Sankara is depicted in the form of colourful carvings on the tower. Statues of Sri Adi Sankara with his four principal disciples is located at the top of the tower, facing the sea.
View of Sri Sankara Matam Entrance
There is another tower with a bell at the top with a cow reaching for the bell with a rope. This is called Araychi Mani Mandapam. Apart from this, temples for 12 Jyothir lingas and for Lord Ganesa and Lord Subramanya are also located in the Matam. Devi Saraswathi is also installed here.
A discourse and events hall plays host to various dharmic activities. A Go-Shala provides shelter to cows. There is a full fledged Yatri Niwas having 10 rooms out of which 2 rooms are air-conditioned. This is about 2 Km from Railway Station and Bus Stand and is hardly two minutes walk from the temple. Annadaan is offered to pilgrims every day.
Pilgrims can contact the manager for information about Rameswaram and other holy places around like Dhanushkoti, Ramnad, Tirupullani, and Uttara Kosa Mangai Nava Pashanam etc. Further details can be had from the Manager, Sri Sankara Matam, Rameswaram (Phone: 04573 221661 ).
View of Agni Teertham from Sri Sankara Matam
---
| | |
| --- | --- |
| Araychi Mani Mandapam | Guest House |
| Office Complex | Yatri Nivas |
Some photographs of Shri Kanchi Kamakoti Peetam Shankara Matam, Rameshwaram taken recently :