Vishwa Shanti Maha Yagnya
Veda Sammelan
&
Rudra Japam
5-9 March 2014
Arunachal Pradesh 

The root of Dharma lies in Vedas. There is eternal peace wherever Dharma is prevalent. Their Holiness Jagadgurus Sri Jayendra Saraswathi Shankaracharya Swamiji and Jagadguru Sri Sankara Vijayendra Saraswathi Shankaracharya Swamiji of Shri Kanchi Kamakoti Peetam have blessed for organizing Veda Parayan at various places throughout India for peace and prosperity. In pursuance of Their directions, Viswa Shanti Maha Yagnya and Veda Parayan were held in Jammu-Kashmir, North-Eastern States and Nepal. In this series, the next Viswa Shanti Yagnya, Veda Sammelan and Rudra Japam will be held in Arunachal Pradesh from 5th to 9th March 2014. Arunachal Pradesh is a State in the Himalayan Ranges. It is a frontier state having borders with Tibet, China and Burma, Assam in the South. The mighty Brahmaputra River flows through the state. The vast tribal population follows indigenous faith. Itanagar is the Capital of Arunachal Pradesh.
Surya Bhagavan is known as Pratyaksha Paramesvara - the primordial visible god of the Universe. Our country has several important Kshetras and monumental temples of Surya like Kashmir (Martanda temple),  Konarak (Orissa), Modhera ( Gujarat, Chitrakaranam Gupta temple at Khajuraho ( Mādhyapradesh ) and Suryanar temple in Tamilnad. India's land of the rising Sun – aptly called – "Arunachal Pradesh" – has a vast tribal population following Donyi Polo – the indigenous faith that is centred around worship of Sun(Donyi) & Moon(Polo). The worship of Sūrya as the primordial deity is called Saura form of worship and according to traditions Adi Shankaracharya established this form of worship along with other five forms of worship and hence He is called as Shanmatha Sthâpanācārya.  Suryanamaskar and Navagraha Homams will be performed during the Viswa Shanti Mahayagnya. Shri Rudra Parayanam will be performed at other Shiva / Hanuman Temples in the vicinity of Itanagar and at Sidheswarnath Temple in Kardo Forest, Ziro, about six hours drive from Itanagar.
Devotees are invited to participate and receive the blessings of Their Holinesses Pujya Shankaracharya Swamijis and Anugraha of Sri Tripurasundari Sameta Chandramouleeshwaraswamy.
Vishwa Shanti Maha Yagnya -Veda Sammelan & Rudra Japam
Daily  Programme: 6:30-11 AM, 2-4 PM, 5-6:30 PM
Veda Parayanam of Rigveda, Shukla Yajurveda, Krishna Yajurveda, Samaveda (Kauthuma , Jaimineeya & Ranayaneeya) & Atharvana Veda, Totakashtakam, Swastivachanam, Vishnusahasranama & Sri Rudram will be recited. Devotional Discourses (Pravachanam), Sampradaya Namasankeertana Bhajans and cultural programs in the evenings are also being arranged for the benefit of the local population.
Date

Day

Time

Venue

Havan

5th March

Wed

6.30-11 am

Art of Living Ashram, Itanagar

Go-Puja, Ganapaty & Avhanti Japa Homa

Veda Parayanam, Rudra Japam, Namasankeertanam

2-4 pm
5-6.30 pm

Hanuman Mandir

Veda Parayanam, Rudra Japam
 Pravachan
Bhajan: Seeta Kalyanam & Namasankeertan

6th March

Thu

6.30-11 am
2-4 pm

Art of Living Ashram, Itanagar

Sudarshana, Navagraha Japa Homam,
Veda Parayanam, Rudra Japam

5-6.30 pm

Kalakshetra, Itanagar

Veda Parayanam, Rudra Japam
Pravachan
Bhajan: Radha Kalyanam & Namasankeertan

7th March

Fri

6.30-11 am



Art of Living Ashram, Itanagar

Rudra Homam, Durga-Lakshmi-Sarasvati Sukta Japa Homam,
Veda Parayanam, Rudra Japam

2-4 pm

5-6.30 pm

 Hanuman Mandir

Veda Parayanam, Rudra Japam
Pravachan

Bhajan: Shivashtapati & Namasankeertanam

8th March

Sat

11 am-1 pm

Siddheswar nath Mandir,
Ziro Forest

Ganapati-Rudra Homam(Laghu)
Veda Parayanam, Rudra Japam

Bhajan

9th March

Sun

6.30-8.30 am

Art of Living Ashram, Itanagar

Suryanamaskar
 Dr. Shankar Abhayankar Shastri from Aditya Pratishthan, Pune will give discourses in Hindi.
Prof Dr. Sannidhanam Sudarshan Sharma, Vice Chairman and Prof Dr. Roop Kishore Shastri, Secretary, Maharshi Sandipini Rashtriya Veda Vidya Pratishtan, Ujjain will participate and deliver keynote addresses.

सर्वे भवन्तु सुखिनः सर्वे सन्तु निरामयाः।  सर्वे भद्राणि पश्यन्तु मा कश्चिद्दुःखभाग्भवेत्॥
May all be happy, May all be healthy, May all see good & May not anybody be afflicted by misery


Ved Bhavan Bhajan Samaj
50, Lake Avenue, Kolkata 700026 Phone. 033-24639049

Purva Tirupati Sri Balaji Seva Samiti(Balaji Mandir)
NH 37, Betkuchi, P.O. Garchuk, Guwahati – 781035 Phone. 0361-2740649, 2131459
Shri Kanchi Shankara Health & Education Foundation
Shri Sankara Deb Netrayala
96, Vashishta Road, Beltola, Guwahati – 781028
Shri Kanchi Kamakoti Seva Samithi & Veda Pathashala
Shiva Panchayatan Mandir, Nandok, Ranipool, East Sikkim 737102
Sri Triveni Vidyapith Ved Pathashala
Mahesmari, Champasari, Siliguri, West Bengal [40 students learning Shukla Yajur Veda]
Maharshi Sandipini Rashtriya Veda Vidya Pratishtan, Ujjain
Under M.H.R.D
Govt. of India
Aditya Pratishtan
Pune
Veda Dharma Sastra  Paripalana Sabha
 Kumbakonam(Est. 1942 )
Sri Rathnagiriswarar Veda Goshti Besant Nagar, Chennai - 600090
Art of Living Itanagar, Ashram Pagatara Village, Jollang, Itanagar Pin: 791113
Hanuman Mandir Management Market Area, Ganga, Itanagar
Siddheshwar Nath Committee
Kardo, Ziro
Arunachal Pradesh
Sri Pratyaksha Charitable Trust
Kumara Vijayam, No. B-14, 3rd Floor, 99, Royapettah High Road, Mylapore, Chennai – 600004  sripratyaksha@gmail.com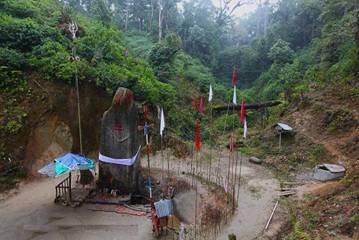 Swayambhu Shivalinga - Sri Siddeshwar Temple, Kardo, Ziro Forest, Arunachal Pradesh
---
Sūrya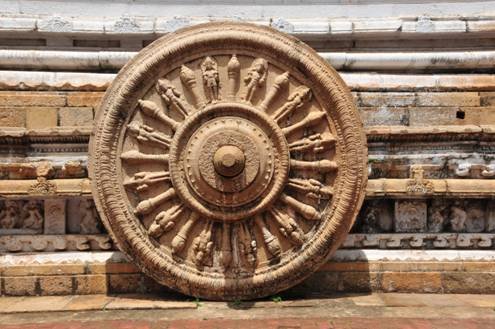 SAMVATSARA cakra, with twelve suns representing the Twelve months
 Nageswara Temple, Kumbakonam, Tamilnadu

Aditya,  Savitā, Suryah, Gabhastimān, Mitrah, one with thousand eyes, the thousand footed and the thousand handed are all some of the names used in Vedas to denote the Sun god, He is also recognized as the primordial visible god of the Universe - Pratyaksha Paramesvara , all the other gods can be seen only through Knowledge. He is extolled as the Soul of the world -(Sūrya Ātmā Jagatah) and is the Eye of the Universe-"Cakshuh". Surya wakes up all living beings from slumber and stimulates them to undertake their works as he rises. As he comes on the horizon, the cowherds see him and the women who bring waters also see him- "Utainam Gopaas adrsan, adrsan udahāryah. He makes the cultivators to plough the fields as "Mitra Kristin". The learned Brâhmanas with folded hands and reciting the Vedas welcome him for the prosperity of the worlds. The birds and animals rising up fluttering and singing, move here and there. He is the one who removes the darkness of ignorance. He rises in the East and traverses the mid sky and sets in the West and so he is extolled in the Vedas as with three great steps- "Tridhoru gāyah" by every one of his constant movement he creates the time as minute, hour, day night, days,weeks, months and year ( Nimisha, Nādi, Sandhi, Naktam, Divā, Tithi, Vāra, Nakshatra, Yoga, Karana, Māsās, Ritus, and Samvatsara) and so is called the created of Kala. Through benevolent heat he creates vegetation and food to grow and so sustains all lives on earth and so is called Creator, and sustainer of the Universe. At the end of aeons, dissolves the Universe by his terrific heat. So he is also called Brahmā, Vishnu, and Śiva, Indra and other gods. The most repeated Vedic mantras, the Śata Rudrīyam ( Sri Rudram), Purusha Sūktam, Nārāyana Sūktam and others extol him. The most ancient prayer in the world that has been recited for the past several thousand years by millions of people and continued to this day is the Vedic Gāyatrī, which is addressed to Sūrya as God Savitā, to stimulate one's intellect and obtain critical knowledge-Jnāna. This was the prayer from Afganisthan, Pakistan, whole of India, Burma, Thailand, Cambodia and Vietnam, right across a great part of the world.
Súrya is worshipped in all temples, in Śiva temples as Śiva Súrya and in Vishnu temples as Sūrya Nārāyana. The lotus flowers blossom so he is shown in his image with two lotuses in his hands. As is also shown standing on a chariot drawn by seven horses representing the seven days of the week in most cases and in some cases with seven swaras Sa, Ri, Ga, Ma, Pa, Da, Ni in music, Sūrya is always shown standing on a lotus. He is said to circumambulate (pradakshina) the mount Meru on the Himalayas the coldest region of the earth he is shown with his chest covered with a golden kavaca in images in the whole of northern India and this is called Udichya Vesha i.e northern attire. As he combines in himself the acts of Brahmā, Viṣṇu, Śiva, and also his own manifestation, he is often shown with four heads and and eight arms holding the weapons of all the four gods. In such aspect he is called Mārtānda Bhairava mostly in Northern part of India from Eastern Part of India like Bengal, Assam, Manipur, Orissa, and across Aryavarta, Kashmir West and Mādhya Pradesh. Such figures are also found as in the Chola country. In Darasuram near Kumbakonam he is shown as Martanda with four heads and as Ardhanari. His worship was so popular throughout India, monumental temples were built for Surya in Kashmir (Maranda temple), Konarak (Orissa), Modhera (Gujarat), Chitrakaranam Gupta temple at Khajuraho ( Madhyapradesh) and Suyanar temple in Tamilnadu.
Some of the best Marthanda images were made in eastern India like Bengal, Eastern Bihar, Assam, Manipur, including modern Bangladesh by the Pālā rulers. One of the most influential aspect of Hindu worship is what is known as Panchāyatana worship, both as individual worship and temple in which, Aditya, Ambikā, Vishnu, Gana nātha and Mahesvara. In this form of worship, Aditya is worshipped with other four deities. In ancient times, Lingas were worshipped with four images of Brahmā, Vishnu, Śiva and Sūrya - each on one face as Chatur mukhas. Such images of Lingas were worshipped even in Indonesia in ancient times. The worship of Sūrya as the primordial deity is called Saura form of worship and according to traditions Adi Shankaracharya established this form of worship along with other five forms of worship and hence He is called as Shanmatha Sthâpanācārya.
Sūrya worship conferred all round fulfillment and victory. When Lord Rāma was standing in front of Ravana in the battle field , the divine Rishi Sage Agastya appeared before Rāma and adviced him to worship Sūrya "Pujayasva vivasvantambhaskaram bhuvanesvaram Yena sarvān arīn Vatsakumar samaree bijayshyati". This Stotra almost appearing as another gīta, is called "Aditya hridayam" ( the heart of Sūrya worship) is recited daily by thousands of men and women to this day from Kāshmir to Kanyākumari. There is an ancient composition in Sanskrit by one poet Mayura Kavi, consisting of One hundred verses called Sūrya satakam. This was inscribed on stone over One thousand years ago at Kanchipura. The Paramacharya of Kanchi Kamakoti Peetha, used to visit the Surya Shrine inside the Kacchapesvara temple in Kanchi where the inscription is still preserved and read the inscription.
(Article with photo illustrations by Archaeologist Dr. R. Nagaswamy, Former Vice Chancellor, Kanchi University)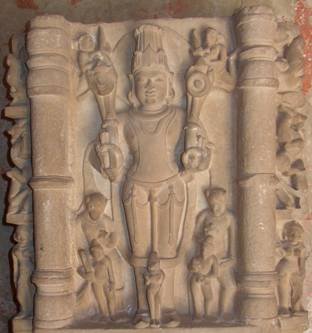 L- Surya wearing Footwear – Khajuraho, Madhya Pradesh; R- Surya Seated on a lotus, drawn by seven chariots – Bhubaneshwar, Orissa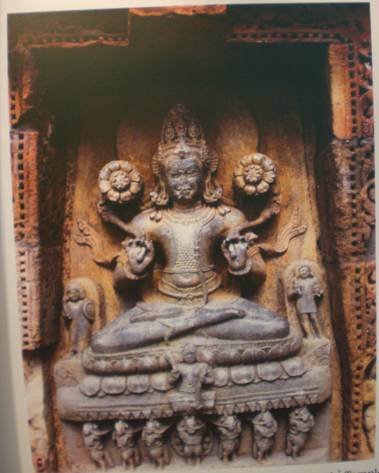 Surya Seated on a lotus, drawn by seven chariots – Bhubaneshwar, Orissa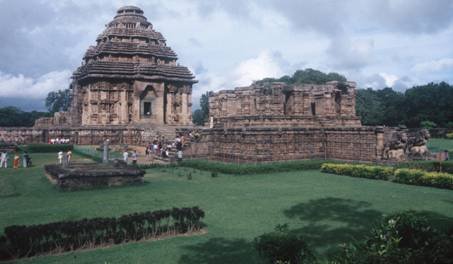 Sun Temple, Konarak, Orissa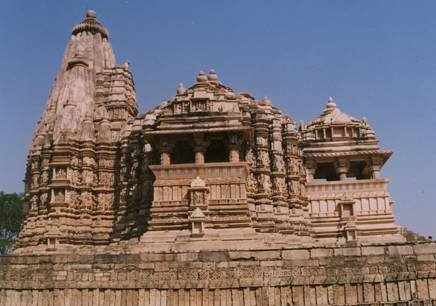 Sun Temple, Khajuraho, Madhya Pradesh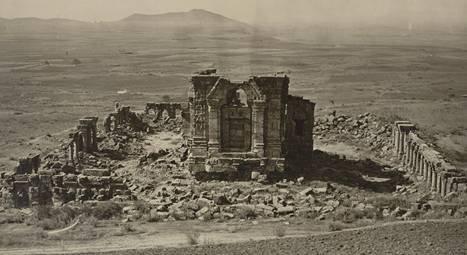 Sun Temple, Martand, Jammu & Kashmir
Click here to download the invitation in PDF Format
For more information regarding the event, contact 9840070469 / mail to kanchimutt@gmail.com
---
Back to news page