Chandi Havan at New Delhi- 9 Feb. 2020
Sri Kanchi Kamakoti Peetam Cultural Centre
Ayyappa Mandir Marg, Sec. -1, R.K.Puram, New Delhi-110022
Mob. 99726 11341 Email: kanchimuttdelhi@gmail.com web:www.kamakoti.org
सर्वमंगलमांगल्ये शिवे सर्वार्थसाधिके।
शरण्ये त्र्यम्बिके गौरि नारायणि नमोऽस्तुते॥

With the benign blessings of Pujyashri Shankaracharya Swamiji
Vishwa Shanti Maha Yagnya
Chandi Havan
will be performed on Sunday, the 9th February 2020
from 8.00 am at the Centre followed by Prasadam.

The divine lore of Goddess Durga is a great inspiration to devotees who yearn for strength, confidence, victory & Anugraha. Durga Saptashati, a treatise of 700 shlokas on various valorous pursuits & praises of Goddess Durga, when chanted with offering of oblations through Havan, enables earnest devotees to be blessed with strength, confidence & victory. The Chandi Havan as is known when performed on special days like Pournami is considered auspicious.
His Holiness Pujya Shri Shankara Vijayendra Saraswati Shankaracharya Swamiji of Shri Kanchi Kamakoti Peetam has blessed for performance of Chandi Havan on every Pournami at various places in our country for the well being of its citizens. As per His directions, Chandi Havan is being performed on every Pournami at New Delhi since January 2017.
Devotees are invited to participate in this event and receive blessings of Divine Mother & Pujya Acharyas of Shri Kanchi Kamakoti Peetam.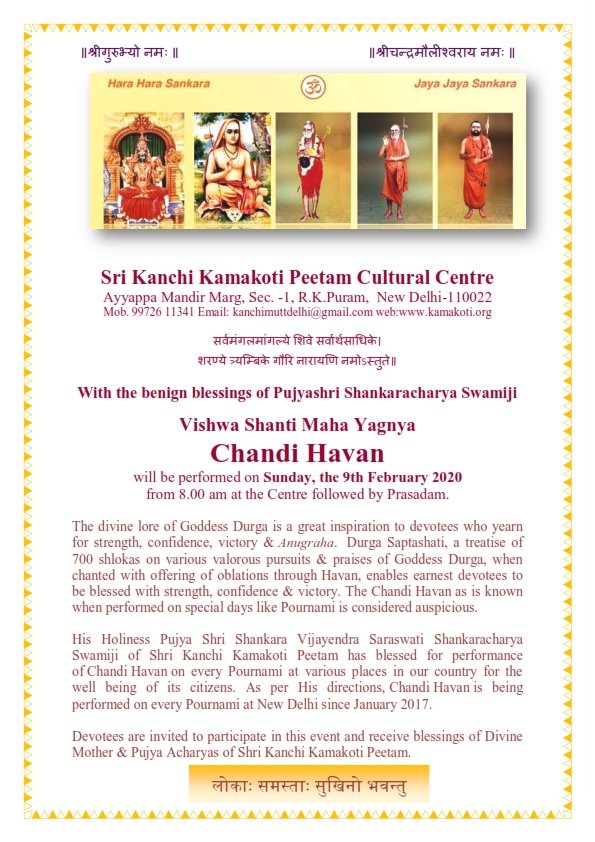 ---