Assam

Guwahati
Sri Shankar Deb Netralaya
Sri Purva Tirupati Balaji Mandir

Adi Sankara Mandir, Kamakhya, Guwahati, Assam
Silchar
Plans are under way for establishing a Super Specialty Hospital at Silchar intended to cater to needs of almost all fields of Medical Discipline.The Hospital in two phases of construction will be one of the largest in Eastern and North Eastern India with In Patient and Out patient facilities. It is to be staffed by eminent Doctors.The Organisation's plans include a reasonable pricing policy, high quality treatment, follow up after treatment(a unique feature in line with the Organisation's moral commitment to ensuring the continuous well being of patients) and a Training Program aimed at training the interested local people and making them suitable for taking over positions of employment in the Hospital over a course of time.Basic guiding factors again will be non-commercial motivations of providing quality and timely relief to the suffering and setting up a Hospital equipped with latest technology/medical machinery and backed by continuous R&D support .Also well located in North East,the Hospital is expected to meet the entire needs of the Region and even those of neighbouring Countries including Bangla Desh,Nepal,Bhutan,Myanmar,Malaysia and Singapore over a course of time.
Currently it is at early stages of land procurement, architectural designs,machinery procurement,Recruitment of Doctors etc. But to connect with the needy patients an Out Patient Department staffed with Multi Specialty Doctors has already been started at Silchar so that even during the gestation period of construction of the Hospital the patients may have medical facility access.The facility was opened on 5th Dec 2008

Back to top
---
Here the plans are to construct a Health Care and Education Complex which will include the following
1.To construct a Health Care Center which will includea full fledged Eye Care Center in or around Agartala for which dialogue with the Government has been initiated on land location.The Government has also assured us of support in making land available.
2.Schools in various places
---
A Socio Cultural Complex in Imphal including a Health Care Center to cater to the needs of the Manipur Residents is being planned. Dialogue has already been initiated with the Government who are favourably disposed to the allotment of land on a special basis with offer of all support for the successful start of the Complex.
2010: Veda Parayan performed at Manipur : 1 - 3 May 2010
---
Sikkim

A Shiva Panchayatan Temple has already been constructed in Rani phool close to Gangtok in line with the request of the local Residents.The Temple is a major attraction and satisfies the needs of the Residents.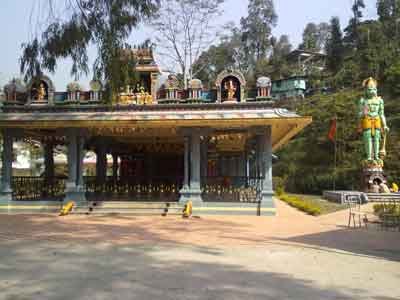 Plan is also under way to start a Veda Patashala.
Contact Info:
Sri Kanchi Kamakoti Seva Samithi
(Shiva Panchayatan Mandir)
Nandok
Ranipool 737102
East Sikkim
Contact Person Mr R C Mangla
Phones 03592-250174, 9832062029
---
Sri Kanchi Kamakoti Vidya Bharti School is running under the auspices of the Peetam in Shillong.Further construction plans are under way as a part of expansion

A Ganesh Temple has also been constructed in Shillong based on public request.

Contact Info:
Sri Kanchi Kamakoti Shankara Health Education And Charitable Trust (Meghalaya)
(Educational Institution)
Jeewan Ram Mungi Devi Goenka Complex,Upper Mawprem
Lower Bara Pathar( Maw Bah)
Shillong 793002 (Meghalay)
Contact Person Mr Baldev
Phone 9436114210


Sri Kanchi Kamakoti Vidya Bharati School
---
Arunachal Pradesh

Dating back to a long tradition in History, Arunachal Pradesh have Social,Cultural and Community requirements which we will be addressing in consultation with the Public and Government of Arunachal Pradesh.
We will also help the patients needing medical attention to be guided to the intended Super Specialty Hospital at Silchar.

Back to top
---
West Bengal

Kolkata
A Hospital is functioning in South Kolkata which offers free medical treatment to Patients.
Contact Info:
Sankara Nethralaya
147,Mukandapur Eastern Metro By Pass
Kolkata700099
www.sankaranethralaya.org
Phone 033-44013000
Contact Person Mr Komal Dashora
Ved Bhavan Bhajan Samaj
50,Lake Avenue
Kolkata 700026
TEL : 033-24639049
Mob: 9432167901
Contact Person Mr.G.N.Subramanian
North Bengal
Siliguri
Sri Triveni Vidyapith (Veda Pathashala) is functioning at Siliguri

Plans are under way to construct a Kanchi Kamakoti Cultural Center at Siliguri to revive the Culture of the Region.

A Complex which will house a Senior Citizen Home with a Mini Hospital, Schools, Exhibition of Indian Murals,Greenery and related facilities like a Library, Recreation arrangements etc over 20 acres of land
Darjeeling/Kurseong
Immediate needs are a Senior Citizen Home and a Medical ICU.This matter is under study.
---