Sri Kanchi Kamakoti Peetam and the East & North-East Regions - Service Activity Focus
Historically, the connection between Sri Kanchi Kamakoti Peetam and the regions of East & NorthEast dates back to 2500 and odd years. Adi Shankara's 'Parama guru' Sri Gowda Pada hailed from Gowda Desha, the present Bengal. The 65th Acharya of Kanchi Kamakoti Peetam, Sri MahaDevendra Saraswathi had gone on pilgrimage touching the borders of Orissa.

The visit of His Holiness Sankaracharya Sri Chandrasekharendra Sarawathi, the 68th Acharya to Calcutta and parts of Bengal during 1930s is till today cherished as a memorable event. At a later Date, during the turbulent period of partition, Bengal had to face mass killings, calamities on women etc. HH instilled in them a sense of self confidence, the guts to face the hard realities and thus assured them of a society where they can look for solace, compassion and social security. Also, His Holiness opined that, taking cognisance of the services rendered to the victims of the genocide, the volunteers whether Hindus/Muslims should be duly honoured, irrespective of the victim being an Hindu/Muslim.
The continued interaction between Sri Kanchi Kamakoti Peetam & the East-NorthEast Regions is still today a reality. HH Sankaracharya Sri Sri Sri Jayendra Saraswathi Swamiji Maharaj has the distinction of covering the land of Bengal and Assam several times on foot and subsequently accompanied by the 70th Acharya Sri Sri Sri Sankara Vijayendra Saraswathi Shankaracharya Swamiji during their "Vijaya Yatras", which paved way for the multifaceted religious, social, medical-care and Temple-related activities in the region.
On the occasion of the 75th year of His Avathar, year-long celebrations are being held throughout the Nation. The Eastern & North-Eastern Regions were graced with His Holiness's recent visit during Apr-May 2010.
LINKS TO REPORTS ON PAST EVENTS and PROGRAMMES IN THE NORTH EAST
Service Activity Focus in North-East and East
Shri Kanchi Kamakoti Peetham carries out many Service activities. Health Care, Community Help and Social Service are some of the key areas where it provides assistance to the Public.

While these are carried out largely in India, the Peetam has a Global presence with Members living in different Countries supporting the work areas.

In India, apart from rendering service in various States, the Peetam has been focusing specially on the North East in sync with the intense requirements of the Region. The Peetam has studied the needs in detail through several surveys, visits of Representatives to the Region and dialogue with a wide cross section of the Society. Thereafter, it has evolved implementation plans to extend assistance to the society.

The Plans implemented so far and those which are under consideration are given below State-wise:




Choose on the map for State-wise Information
Assam

Guwahati
Sri Shankar Dev Netralaya
Sri Purva Tirupati Balaji Mandir
Purva Tirupati Balaji Mandir, Guwahati-Assam - Annual Brahmotsavam- 15- 25 February 2013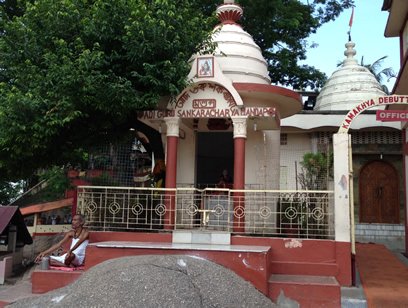 Adi Sankara Mandap inside Kamakhya Temple, Guwahati, Assam

Idol of Shri Adi Sankara inside Kamakhya Temple, Guwahati, Assam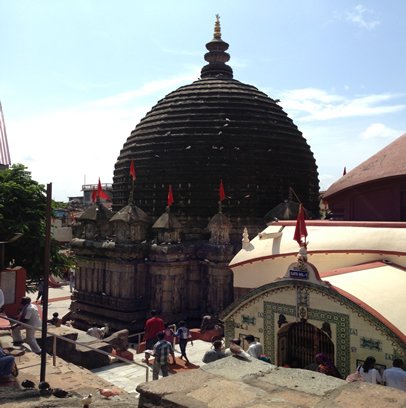 Devi Kamakhya Mandir - Shaktipeeth - Guwahati, Assam
Back to top
---
Here the plans are to construct a Health Care and Education Complex which will include the following
1.To construct a Health Care Center which will includea full fledged Eye Care Center in or around Agartala for which dialogue with the Government has been initiated on land location.The Government has also assured us of support in making land available.
2.Schools in various places
His Holiness visits an ancient spiritual site in Pilak, Tripura - 12 Oct. 2011
---
A Socio Cultural Complex in Imphal including a Health Care Center to cater to the needs of the Manipur Residents is being planned. Dialogue has already been initiated with the Government who are favourably disposed to the allotment of land on a special basis with offer of all support for the successful start of the Complex.
Some events held in Manipur:
---
Sikkim

A Shiva Panchayatan Temple has already been constructed in Rani phool close to Gangtok in line with the request of the local Residents.The Temple is a major attraction and satisfies the needs of the Residents.
Recently (May, 2013), a Veda Patashala has been commenced inside the Temple complex.
Also read: Sri Shankara Jayanthi Mahotsav performed - Viswa Shanti Mahayagnya VIII & Veda Sammelan performed at Sikkim -13 -20 May 2013
Contact Info:
Sri Kanchi Kamakoti Seva Samithi
(Shiva Panchayatan Mandir)
Nandok
Ranipool 737102
East Sikkim
Contact Sri Sundar Malayappan - 9840494696 - sikkimsundar@gmail.com
Sri Sriram Mahalingam- 98409 42827
---
Sri Kanchi Kamakoti Vidya Bharti School is running under the auspices of the Peetam in Shillong.Further construction plans are under way as a part of expansion

A Ganesh Temple has also been constructed in Shillong based on public request.

Contact Info:
Sri Kanchi Kamakoti Shankara Health Education And Charitable Trust (Meghalaya)
(Educational Institution)
Jeewan Ram Mungi Devi Goenka Complex,Upper Mawprem
Lower Bara Pathar( Maw Bah)
Shillong 793002 (Meghalay)
Contact Person Mr Baldev
Phone 9436114210


Sri Kanchi Kamakoti Vidya Bharati School
---
Arunachal Pradesh

Dating back to a long tradition in History, Arunachal Pradesh have Social,Cultural and Community requirements which we will be addressing in consultation with the Public and Government of Arunachal Pradesh.
We will also help the patients needing medical attention to be guided to the intended Super Specialty Hospital at Silchar.

Back to top
---
West Bengal

Kolkata
A Hospital is functioning in South Kolkata which offers free medical treatment to Patients.
Contact Info:
Sankara Nethralaya
147,Mukandapur Eastern Metro By Pass
Kolkata700099
www.sankaranethralaya.org
Phone 033-44013000
Contact Person Mr Komal Dashora
Ved Bhavan Bhajan Samaj
50,Lake Avenue
Kolkata 700026
TEL : 033-24639049
Mob: 9432167901
Contact Person Mr.G.N.Subramanian
North Bengal
Siliguri
Sri Triveni Vidyapith (Veda Pathashala) is functioning at Siliguri

Plans are under way to construct a Kanchi Kamakoti Cultural Center at Siliguri to revive the Culture of the Region.

A Complex which will house a Senior Citizen Home with a Mini Hospital, Schools, Exhibition of Indian Murals,Greenery and related facilities like a Library, Recreation arrangements etc over 20 acres of land
Vishva Shanti Maha Yajna Performed at GangaSagar & Siliguri June 5-8, 2012
Darjeeling/Kurseong
Immediate needs are a Senior Citizen Home and a Medical ICU.This matter is under study.
---
Assam

Guwahati


Sri Shankar Deb Netralaya
Started in 1994,the Shankar Deb Netralaya in Guwahati is a Specialty Eye Care Center located in Guwahati and staffed by some of the finest Eye Doctors of National and International Repute. The Hospital has State of the Art Equipment based on high technology and backed by continuous R&D efforts. The Center takes pride in offering quality eye treatment to the Public at very affordable costs in line with the policy of the Peetam. A Professional Trust manages the Hospital with a sense of future vision and plans for continuous development to meet public needs. Well located in the North East and accepted by the public of the Region, the Center caters to the eye care needs of all the eight States of North East as also the neighbouring Bangla Desh. Several well known Celebrities of India have visited the Hospital and they have endorsed the high quality of treatment offered by the Center. The list includes a former President and the present Prime Minister of India. The Central Government and the State Government of Assam have provided a lot of support to the Organisation.

Click here for further details

Contact Info:
Dr. Harsha Bhattacharya, Medical Director
Sri Sankaradeva Nethralaya
(Unit of Sri Kanchi Sankara Health & Education Foundation),
96,Vashishta Road,
Beltola
Guwahati781028
Phones 0361-2272465, 2305516, 2228922, 2228879;
email : ssnghy1@gmail.com
website : www.ssnguwahati.org

---

Sri Purva Tirupati Balaji Mandir

Located in Berkuchi on the outskirts of Guwahati is this popular Balaji Temple constructed on a huge 16-plus acres of land in 1998. Built to traditional requirements the Temple is considered to be a Replica of Tirupathi in the East of India and hence called as Purva Tirupathi Balaji temple.
Click here to read more and see the photo gallery

Contact Info:
Purva TirupatiSri Balaji Seva Samithi
(Balaji Mandir)
NH 37, Betkuchi, P.O. Garchuk
Guwahati 781035
Tel(Mob.): 93950-95758
email: balajimandir.guwahati@gmail.com
Contact Person Sri Balasubramanian

Back to top

---
---
Back to the News Page